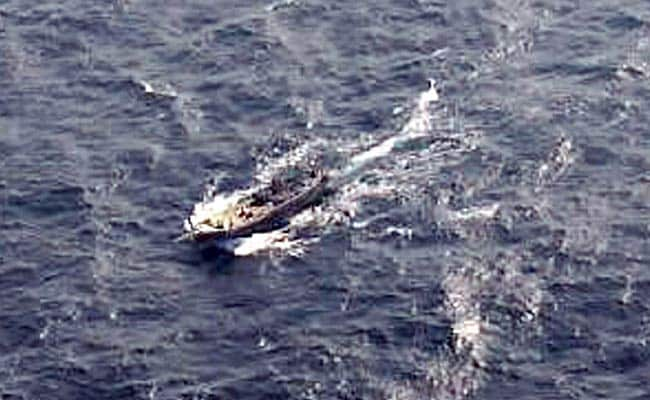 New Delhi: The Pakistani boat that blew itself up off the Gujarat coast on New Year's Eve was carrying "costly cargo" headed for India, intercepts picked up by intelligence agencies revealed. An 18-hour operation began after the boat was spotted at 11 am on December 31, in Indian waters.
Here are details of the operation:
The Coast Guard received the first intelligence input on a suspect Pakistani boat on the morning of December 31, at about 9.30 am.
The National Technical Research Organisation, a technical intelligence agency, picked up phone intercepts from Keti Bunder near Karachi about "expensive cargo" to be delivered near India. A second intercept revealed that those who were to receive the cargo "had been paid and were ready."
A Dornier aircraft was launched at 11.30 am to search for the suspicious boat. Two more aircraft were launched later.
The first Dornier aircraft spotted the Pakistani boat at around 12 noon, when it was 15 nautical miles in Indian waters and moving very slowly.

The Coast Guard ship "Raj Rattan" was sent after the boat. When it found the Pakistani boat, it was "sitting quietly without lights."
The boat, when asked to switch on its navigational lights, only moved away and changed its course several times to throw off the Coast Guard. "It had no intention of stopping, surrendering or getting caught," said a Coast Guard official.
The "hot pursuit" lasted for about an hour. The boat allegedly slowed down because it was low on fuel.
At around 3 am on Thursday, a sudden fire started on the Pakistani boat, followed by an explosion. Four men were seen on the deck before it sank.
Senior Coast Guard officer Kirpa Ram Nautial told NDTV the boat did not blow up accidentally, it was deliberate.
Indian forces and police have been on high alert for US President Barack Obama's visit later this month for the Republic Day parade.