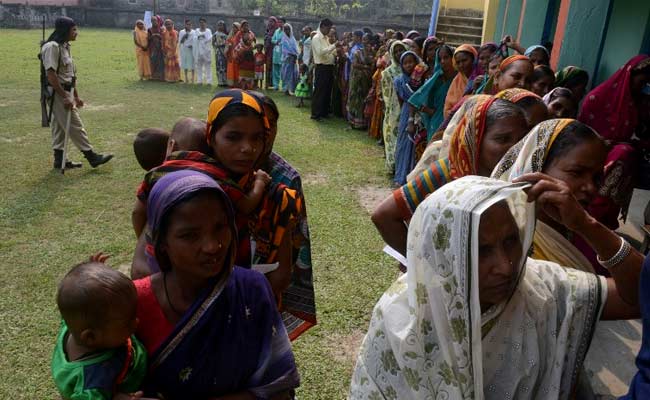 Patna:
More women voted in the five-phase Bihar election than men, the Election Commission said today after the final round of one of the most politically vital polls got over.
The state has delivered a record voter turnout of nearly 57 per cent as compared to about 53 per cent in the last state election in 2010.
Chief Minister Nitish Kumar's camp claims that a higher voter turnout means that people want to ensure the BJP doesn't win. The BJP assesses that higher voting, including by women, signifies change.
Women voters outnumbering men has been a stand-out feature of this election, given that women are only 46 per cent of the voting population in Bihar, and have struggled for equal footing in the state's largely feudal set-up. Six per cent more women voted than the men.
In his 10 years in power, Nitish Kumar is seen to have built a steady base of women followers. This time, women were given 50 per cent reservation in Panchayats and local bodies.
The share of women voters in Bihar has been increasing since the 2009 national election when the BJP-led NDA, then including Nitish Kumar, won 32 out of 40 parliamentary seats.
Just before voting for these polls, Mr Kumar made a special appeal directed at women. "Vote first and do your cooking later. If your men don't vote for the party of your choice, make them fast," he joked.
BJP leaders say that women voted in large numbers mainly because they wanted to escape "jungle Raaj" and Lalu Prasad Yadav, who is partnering Nitish Kumar in the grand alliance.
PM Modi also reached out to women voters in his election speeches, and the BJP's manifesto focuses on scheme and development plans for girl students and women.