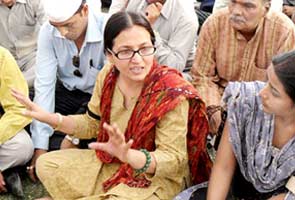 Bhopal:
Central Bureau of Investigation (CBI) officers on Sunday visited the Bhopal residence of murdered RTI activist Shehla Masood with Irfan Ali, who had shot her dead, sources said.
Kanpur-based Irfan, along with Shanu Olanga, had shot Shehla on August 16 last year. Shanu Olganga had earlier been killed in Uttar Pradesh itself.
The four accused in the case, interior designer Zahida Parvez, her friend Saba Farooqui, Bhopal-based criminal Shaqib 'Danger' and Irfan are in CBI custody.
Sources also said that CBI sleuths on Sunday conducted a lie-detector test on Saba Farooqui, and at least 50 questions were asked to her.
The premier agency which has got court permission for polygraph tests of Zahida, Shaqib as well as Bhopal BJP legislator Dhruv Narayan Singh is expected to conduct it by Monday.
The CBI also quizzed public representative of Bhopal legislator, Narayan Pandey on Sunday for the alleged role of MLA in the murder.