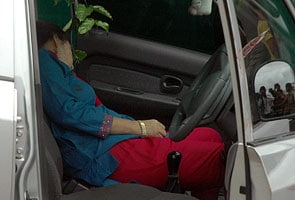 Indore:
A relative of slain RTI activist Shehla Masood, who was the first to attend her after she was shot in a car outside her Bhopal residence, appeared as a prosecution witness in a special court in Indore today.
Sayyed Rahil Hussain, cousin of Ms Masood, told the special CBI court that he felt her pulse while shifting her from the driver's seat to the adjacent seat of the car.
The 38-year-old activist was in her car and about to leave to attend an anti-corruption rally in Bhopal when she was shot dead on August 16 last year.
Mr Hussain, who appeared before Judge Anupam Srivastava, conducting trial in the murder case, was first examined by senior CBI Prosecutor Hemant Shukla and later cross-examined by defence lawyers HO Soni and Sunil Srivastava.
As per the police "panchnama" (a document that records evidence), Ms Masood was shot in the neck. Mr Hussain, during cross-examination, said he did not see her bleeding heavily.
"I shifted Shehla from the driver's seat to the side seat of the car and felt her pulse. While shifting, my hands did not get any blood stain, nor was she profusely bleeding from neck where a bullet mark and red hole was seen. Glass panes were not damaged. There was no sign of struggle, nor any of her belongings was found missing. There were some blood spots below the glass panes of the driver's seat, but there was no blood stain on windscreen," he said in reply to questions asked by Mr Srivastava.
Asked by the defence counsel whether he found or saw a motorcycle at the murder spot or near Ms Masood's house, he replied in the negative. According to the police, the killers had come on a motorcycle.
Mr Hussain told the court that a Bhopal Councillor (identified only as Mahira), was a business partner of Ms Masood, but they parted ways following a dispute between them.
To another question, he said he knew the transparency activist had gone to Switzerland with Tarun Vijay, a BJP Rajya Sabha MP.
Mr Hussain denied any knowledge about his cousin having filed an application with CVC (Central Vigilance Commission) related to BJP leader LK Advani.
Asked if CBI had put pressure on his elder brother Sayyed Razil Hussain, to not to disclose any information related to Vijay and Ms Masood's Switzerland visit, he said he had no such knowledge.
He denied knowing about any RTI plea filed against Dilip Suryavanshi and Sudhir Sharma, both businessmen. Mr Hussain said he had seen Madhya Pradesh BJP MLA Dhruvnarayan Singh visiting Ms Masood's residence but did not know much about their relationship.
To a query by another defence counsel Soni, Mr Hussain said he along with Ms Masood's father and aunt didn't take her to hospital because police stopped them from touching the body.
The next date of trial is on October 30, when Shivcharan Sharma, a government photographer, and DS Badkul, Forensic Department Director, will depose before the Court.
Zahida Pervez, an interior designer and a friend of Ms Masood, has been named as the prime accused in the case by CBI along with four others.
Other accused are Zahida's friend Saba Farooqui and alleged shooters Irfan Ali, Tabish Khan and Saquib Ali alias Danger. All five, charged with murder and criminal conspiracy, were today present in the court.