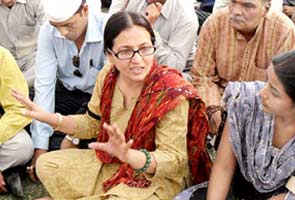 New Delhi:
CBI is likely to question a senior BJP MLA of Madhya Pradesh next week in connection with his alleged association with Shehla Masood murder accused Zahida Parvez and his alleged role in the murder conspiracy.
CBI sources said the agency is awaiting report of Central Forensic Science Laboratory on the authenticity of a CD recovered by it from the residence of Parvez which is expected to be received by it on Monday.
The CD carries some crucial evidence about the alleged relations of the leader with Parvez and the further questioning of the leader would be based on it, they said.
The agency has claimed that the BJP leader had no role in the murder conspiracy. The sources now say that a final examination of the leader was necessary after the new evidence allegedly surfaced.
The sources said CBI wants to clear all its doubts about the suspected role of the political leader in the murder conspiracy of Masood who was killed outside her house in Bhopal on August 16, 2011 when she was leaving to take part in the anti-corruption movement of Anna Hazare.
CBI which has already filed its charge sheet in May last year had recovered some evidence after its filing which made it necessary to question main accused Zahida Parvez and her associate Saba Farooqui, they claimed.
The duo were questioned in Jail by a woman CBI inspector on February 6.
The sources, without giving details of the evidence, said it was important to carry out final questioning of the leader to clarify about his alleged association with Parvez and other details which would clarify the murder mystery.
CBI has earlier asked the BJP leader to appear for a lie-detector test at the CFSL but he expressed in his inability to under the test at the last minute citing health reasons, the sources said.
They said Parvez had raised the issue of larger conspiracy in the murder of the RTI activist which had made it necessary to examine all the actors of the case who are suspected to have dealings with her.
In its charge sheet filed in May last year, CBI has booked Parvez, Farooqui, Ali, Ifran and Tabish under sections 302 (murder), 120B (criminal conspiracy), 201 (causing disappearance of evidence) of IPC and sections 25, 27 of the
Arms Act.
The agency had described the motive of RTI activist's murder as jealousy of Parvez with Shehla because of her relationship with the MLA which prompted her to plot her murder.
CBI had alleged that Parvez hired contract killers using Shaqib's contacts who eliminated Shehla. The agency also produced a diary written by Parvez in which she had given some details indicating her knowledge about the killing.