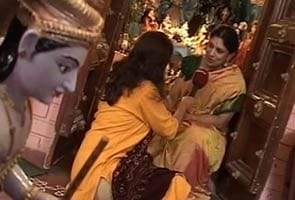 Bangalore:
The tradition of displaying dolls as part of the Dasara festival goes back thousands of years in India. But this is the 21st century. Homes are smaller and lives seem busier - so it is a tradition that could disappear. Bangalorean Anupama Hoskere - Bharatnatyam dancer and puppeteer - is hoping to keep this tradition alive with her well researched collection and display of over five thousand dolls.
At her home in south Bangalore, Anupama Hoskere has her dolls arranged to tell stories from the Mahabharata and the Ramayana. This display of dolls is part of an unbroken tradition and is the labour of love of a woman who studied to be an engineer. Her aim is to involve the children of today in these ancient traditions.
Anupama told NDTV, "As a child, I always enjoyed this festival. There was always excitement about bringing things out of the cupboard and putting it up. I looked at the children, looked at the dolls and said they really need this. And that's how it really started because I wanted to reintroduce this in a way that today's children would accept it, have fun with it. That is the bottom line. If they have fun with something, they can learn about it, want to keep it."
The result was Dhaatu, a non-profit organisation which aims to revive, preserve and nurture Indian culture and art - a space that becomes a traditional dolls house for 10 days every year.
Anupama points with pride to the Gowri dolls, typical of Karnataka, four feet tall and made of wood. She says, "They have the joints the human beings have, they are made of wood. Special finish is done. Interestingly, the traditional puppetry of Karnataka and these dolls have a similar structure but the function is slightly different. Even here it is like a still theatre."
In Karnataka, the display of dolls had royal patronage as well - and it is fitting that this display also featured the famous Vijayadashami procession that is the culmination of the festival in the royal city of Mysore.
Dasara has been chosen as the state festival of Karnataka - and a vital, colourful part of this festival is the display of dolls throughout the ten days. This is a tradition that goes back thousands of years - and at Dhaatu, there is an attempt here to keep it alive. An attempt that certainly seems to be successful.