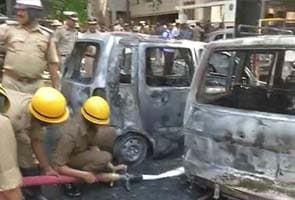 Bangalore:
A blast near the BJP's office in Bangalore this morning has injured eight policemen and eight civilians.
Bangalore Commissioner Raghavendra Auradkar said the explosives appear to have been placed on a motorcycle, but so far, he said, there are no details of the sort of material that was used. (
See Pics)
Karnataka's Home Minister R Ashoka described the blast as "terrorist activity" and said BJP workers were the target.
Because elections in Karnataka are scheduled for May 5, a police van was parked near the BJP office, and the policemen who were injured were on duty today. Two teen girls are among those hurt. Several vehicles including the police van were gutted.
The blast took place at 10.30 am near the BJP office in the Malleshwaram area of Bangalore, a crowded residential neighbourhood.
"The injuries are not very serious and nobody is critically injured, said L Pachau, the Director General of Police, Karnataka.
RPN Singh, the country's junior Home Minister, urged, "Don't pay heed to rumours". He said, "The Home Ministry will provide any assistance that the Karnataka Police needs."
A team from the National Investigation Agency, which has expertise in handling terror attacks, has inspected the site.