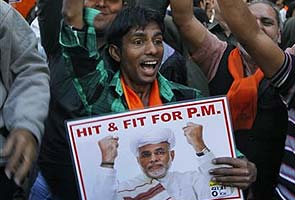 New Delhi:
As Narendra Modi appeared set for a hat-trick in Gujarat, BJP today parried questions on whether he will be the party's prime ministerial candidate in the next Lok Sabha elections.
"Modi bhai has always been an important leader in the BJP... We are not a dynastic party which is led by a Yuvaraj. We function in a pure democratic fashion," BJP chief Spokesperson Ravi Shankar Prasad said.
He was asked whether the third straight victory in Gujarat has defined Modi as the prime ministerial candidate for the BJP in the next Lok Sabha election in 2014.
The party should be allowed to rejoice in its performance-led victory in the state, Mr Prasad said, adding that Mr Modi fought against all forms of vicious campaigns against himself at different levels in the state as well as internationally.
"What is significant about this election is that in this country where there is so much of caste divide, a leader who has identified with the aspirations of an entire population, has emerged victorious," he said.
He also warded off questions about implications of BJP's relations with the Bihar Chief Minister Nitish Kumar, who has been critical of the idea of Mr Modi's elevation to the national level.
"This issue has been discussed several times. Our roots (BJP and JDU) are very strong and we have fought several polls together," Mr Prasad said. "This is a speculative question. Allow us to celebrate Modi bhai's third victory," MR Prasad said.
The BJP leader also said that the party is proud to have several eminent people with capability to become Prime Minister.
"We are proud to have so many eminent leaders capable of becoming Prime Minister, unlike a Yuvaraj leading a dynasty. Our candidate will be chosen at the appropriate time," he said.