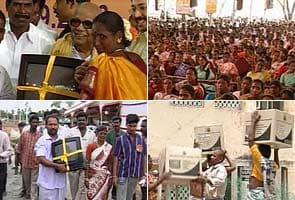 Chennai:
The Election Commission (EC) has pulled the plug on one of the DMK's favourite please-all schemes: free colour TVs for residents of the state.
Yesterday, the Commission announced that Tamil Nadu will vote for its next government on April 13. Counting will be held on May 13 for the 234 seats in the Assembly.
The announcement of voting day means that the model code of conduct is in effect.
In its 2006 manifesto, the DMK highlighted the distribution of free colour TVs. So far, 1.62 crore TV sets have been distributed at a cost of Rs 4000 crore - the bill has been footed by taxpayers. The government recently ordered another 10 lakh television sets. With the Commission's notification today, these cannot be handed out.
Chief Electoral Officer Praveen Kumar warned the government to stop any announcements or schemes that 'may have the effect of influencing the voters in favour of the party in power. "Further, the ministers shall not combine their official visit with electioneering work and shall not make use of official machinery or personnel during electioneering," he added.