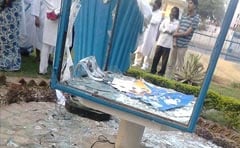 Agra:
The Agra police have claimed that a young Muslim man has confessed to attacking a church in the city last week because his romantic advances were spurned by a girl who frequented the church.
Haider Ali, a rickshaw puller, is among over 100 people detained and questioned by the police in connection with the attack on St Mary's Church in the Agra Cantonment area in the early hours of April 16. Statues were damaged and windows were smashed.
A group of people from all faiths took out a silent protest in the city yesterday against the incident. In capital Lucknow, all Christian schools were closed.
Father Savarimuthu, spokesperson of the Delhi Archdiocese had said after the Agra attack, "We appeal to both state government and the Centre to ensure the safety of minorities and send out a strong message to the anti-social elements behind these attacks."
The Agra incident came amid several attacks on churches and other Christian buildings in different places that have led to a growing feeling of insecurity among Christians. A convent in West Bengal was ransacked last month and a 72-year-old nun was raped, which triggered protests across the country.
A few days before that, a Catholic church being built in Haryana was vandalised; its cross was removed and a small statue of the Hindu god Hanuman was placed in the church.
In February, addressing a conference organised by Christian groups in Delhi, Prime Minister Narendra Modi had said, "My government will not allow any group belonging to majority or minority to incite hatred against others."
In France earlier this month, PM Modi said his government is committed to defending the rights and liberties of all Indians.