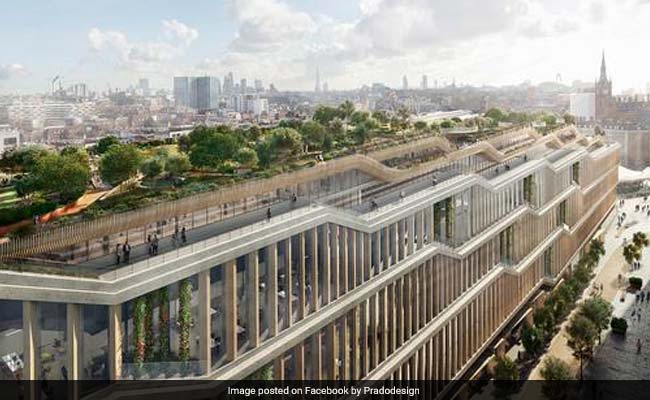 Highlights
Construction of its new UK office in London starts next year
Google is among the firms that are doubling-down on their London offices
Google currently employees around 4,000 people in the UK
Longer than the European Union's highest building is tall, staff working in Google's planned new U.K. headquarters will have no excuse not to keep fit.
The proposals, submitted by Google U.K. and its developers to Camden Council this week, include a 200 meter long "Trim Trail" on the roof, a three-lane swimming pool, massage rooms, a host of exercise studios and a games area for basketball, five-a-side soccer or badminton. Less energetic workers can watch the sports from a diagonal staircase that will double as a seating area and cut through the building's 11 stories before emerging onto a roof garden.
The 93,000 square meter building (1 million square feet) will form a campus alongside the technology company's existing offices in the King's Cross district.
The new plans replace a previous design for the site next to King's Cross railway station that was previously approved in 2013. Alphabet Inc.'s Google currently employs around 4,000 staff in the U.K., the majority in an office near the new site. Construction starts next year.
Occupying most of a 330 meter stretch of land, slightly higher than London's 310-meter Shard tower, Google enlisted a host of architects and designers, including Thomas Heatherwick, who is also involved in the tech company's new Californian headquarters and is known for redesigning London's iconic double-decker bus.
The roof will be covered in a 300 meter long garden, which apart from the running track and relaxation areas will be partly covered in wildflower gardens.
Google is among a host of major tech companies including Snap Inc. and Apple Inc. who are doubling-down on their London offices, despite the uncertainty around the U.K.'s exit from the European Union.
"Here in the U.K., it's clear to me that computer science has a great future with the talent, educational institutions, and passion for innovation we see all around us," Google Chief Executive Officer Sundar Pichai said in November.
(Except for the headline, this story has not been edited by NDTV staff and is published from a syndicated feed.)