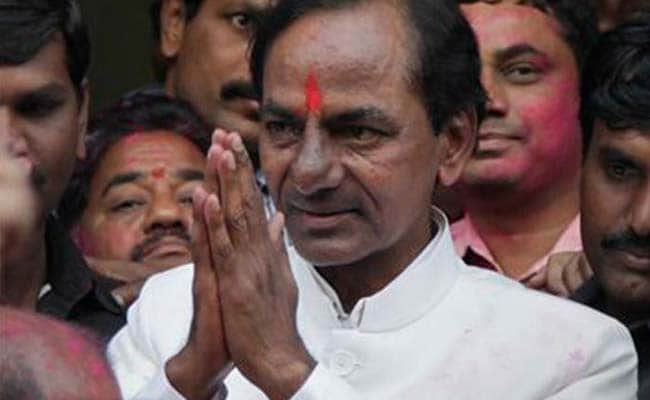 Highlights
KCR said his party will contest alone in the Telangana assembly elections
His meetings with PM had given rise to rumours of possible alliance
He has been pitching for a non-Congress-non-BJP Federal Front
Hyderabad:
Telangana Chief Minister K Chandrasekhar Rao has declared that he wants early elections in the state -instead of the middle of next year, it could be held anytime in the next six months. His party, he said, would nominate candidates by September.
The Chief Minister also spoke of the Federal Front being the "only answer" - rebutting Congress chief Rahul Gandhi's election pitch that lumped him together with the NDA. And he underscored that the party will go it alone in the elections - contradicting rumours of the party allying with the BJP.
The Telangana Chief Minister, who had been pitching for a non-Congress-non-BJP Federal Front for months, has lately given rise to a perception that he has entered a secret understanding with the BJP. This was fuelled by two consecutive meetings with Prime Minister Narendra Modi, followed by a vote for the government in last week's Rajya Sabha deputy chairman election.
Mr Gandhi cashed in on the impression yesterday during the attack on the state government, saying the NDA and the TRS have the "same style" of functioning, making "false promises everywhere that they don't fulfill".
"Rahul Gandhi does not have any idea of how many unemployed people are there in the state... Isn't it enough the number of years the Congress ruled?" KCR, as the Chief Minister is popularly called, said.
"AICC leaders talk without decorum or decency... They defamed us saying we are a threat to the people of Andhra Pradesh," he added while talking to reporters at the end of the TRS Executive meeting.
The Chief Minister's talk of early elections in Telangana also helps distances him from the BJP and its idea of simultaneous elections. The BJP is planning to hold elections in at least 11 party-ruled states along with general elections next year.