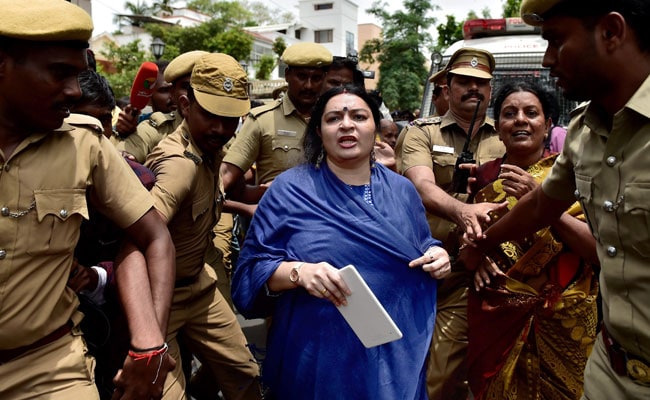 Highlights
J Jayalalithaa's niece Deepa Jayakumar said she will go to court
Deepak Jayakumar has written to Chief Minister E Palaniswami
Mr Palaniswami said Ms Jayalalithaa's home will be turned into a memorial
Chennai:
J Jayalalithaa's niece Deepa Jayakumar and nephew Deepak are incensed over a plan to turn her sprawling home in Chennai's Poes Garden into a memorial for the former Tamil Nadu Chief Minister - a decision that meets
one of the many conditions set by a rebel faction of the ruling AIADMK for a merger.
Ms Jayalalithaa's niece Deepa Jayakumar, who has staked claim to her political legacy and has also launched a party, said today she would go to court.
In June, when she was stopped by guards from entering the house, she alleged an AIADMK conspiracy.
Her brother Deepak has written to Chief Minister E Palaniswami or EPS that he must seek his and his sister's consent before taking over her property, reminding him that his aunt hadn't left any will.
"I am legal heir to the property by a probated will of my grandma Mrs Sandhya (Jayalalithaa's mother)...Though we may be willing to give the property to our aunty's memorial, the government shall follow the procedures established under law before attempting to take over the private property without the consent of the heirs/owners," Deepak has said in a letter to the Chief Minister.
"Myself and my sister Mrs Deepa are the only legal heirs under the Hindu Succession Act," he says in the letter that was reportedly written last week, when the memorial plan was not official.
Jayalalithaa died in December amid multiple theories and speculation about her condition. Her closest aide VK Sasikala, who lived with her for decades, took control of the ruling party and had O Panneerselvam - a loyalist who filled in for Jayalalithaa twice when she was alive - take over as Chief Minister.
Sasikala later decided that she should become Chief Minister and forced Mr Panneerselvam or "OPS" to resign, causing him and a few of his supporters to quit and form a rebel group. She is now serving a jail term for corruption.
Over the past few months, the EPS and OPS camps have been in talks for a reunion and among the demands of the rebels was an investigation into Jayalalithaa's death and a memorial at her home.
36 Poes Garden, a 24,000 square foot property named "Veda Nilayam" features spectacular luxury and opulent interiors. The land was bought by her mother Sandhya, who was also an actor.
The family claims that legal experts say without a will from Jayalalithaa, her nephew and niece are her legal heirs.