Highlights
Sasikala granted 5-day parole to visit ailing husband
Her husband had a liver and kidney transplant on Wednesday
She was recently evicted as chief of Tamil Nadu's ruling AIADMK
Chennai:
VK Sasikala left a Bengaluru prison today, nearly eight months after she was jailed for corruption, on five-day emergency parole to travel to Chennai and visit her husband in hospital.
For the brief outing, Sasikala had to accept conditions; in Chennai, she has to live at the home of her sister-in-law Ilavarasi, who was also jailed with her. The 61-year-old also has been banned from any political activity or statements to the media.
She has also been told that she can't have visitors either at home or in the hospital.
Recently evicted as chief of Tamil Nadu's ruling AIADMK, Sasikala was denied parole earlier this week on account of "incomplete paperwork", say officials.
Her nephew TTV Dhinakaran arrived this morning at the Bengaluru Central Prison with a group of supporters and waited till she came out, waved to the public and drove off in a car.
Sasikala and Dhinakaran were sidelined by the AIADMK recently in a power struggle that erupted days after former Chief Minister J Jayalalithaa's death in December. A section in the AIADMK that supports her is elated about her "homecoming".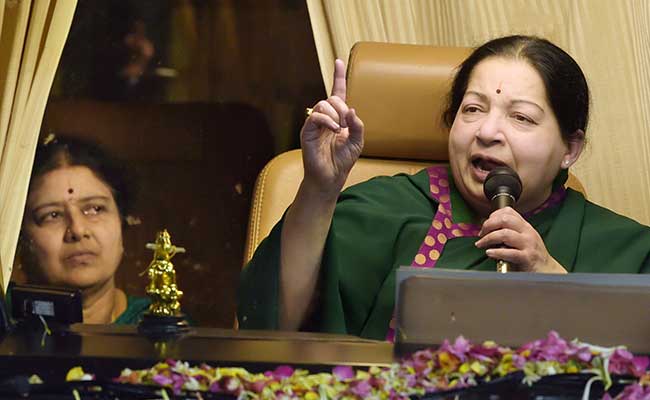 "Sasikala will only look after her husband like a good wife. She will not meet anyone, no political agenda, no strategizing," said Apsara Reddy, a spokesperson of her camp.
Sasikala was the closest aide of Jayalalithaa and shared her upscale Poes Garden home in Chennai for decades. She installed herself as AIADMK chief after Jayalalithaa's death and was about to try and take over as Chief Minister in February when the Supreme Court sentenced her to four years in jail for corruption in a case dating back to the 1990s.
A faction headed by O Panneerselvam, which had broken away from the AIADMK over Sasikala's takeover, returned in August after the party resolved to distance itself from her and her nephew.
One of the terms of the reunion was that Jayalalithaa's Poes Garden home, Veda Nilayam, will be turned into a memorial. Which means it is out of bounds for Sasikala, who had noted it down as her address in jail records.
Sasikala's husband, M Natarajan, 74, had a liver and kidney transplant on Wednesday. He was admitted to hospital last month after multiple organ failure.
In jail, Sasikala has remained in the news over allegations that she paid Rs 2 crore for VIP facilities like special meals, a suite of rooms and a flat-screen TV.