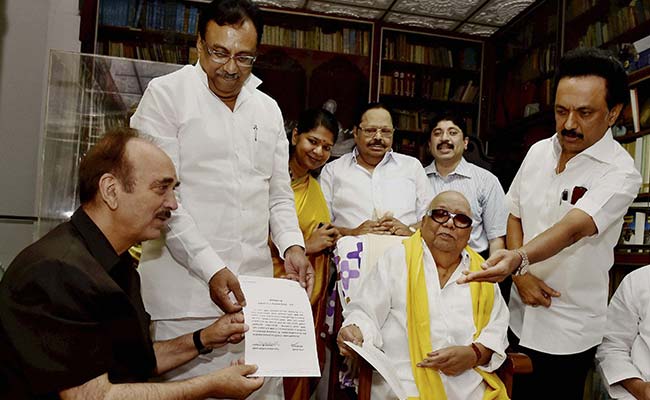 Chennai:
The Congress will contest 41 seats in the Tamil Nadu elections, the party announced today as it finalised its seat-sharing agreement for the polls, voting for which begins on May 16.
The tally is 22 less than what it had got last time, in 2011, when the party had contested 63 out of the 234 seats in the Tamil Nadu assembly.
In the second round of talks
after the two parties revived their ties, Congress leader Ghulam Nabi Azad met DMK chief M Karunanidhi in Chennai to finalise the agreement today.
"It is the DMK's turn to form government," Mr Azad said at the end of intense negotiations spread over weeks.
"Of course, the major share, the number (of seats) will go to DMK but there are other allies also and DMK has already tied up with other political parties," he added.
The bilateral discussions to identify the constituencies each of them would contest will begin later today.
DMK leader said the alliance is confident of "driving out" AIADMK from power. But 'power sharing' with the Congress was out of question, he said.
After joining hands for 2004 Lok Sabha polls, DMK had walked out of the Congress-led UPA coalition in 2013 over the Sri Lankan Tamils issue.
However, the two revived the alliance on February 13, with Mr Azad, in-charge of Congress affairs in Tamil Nadu, holding the first round of seat-sharing talks with Mr Karunanidhi on March 25 in Chennai.