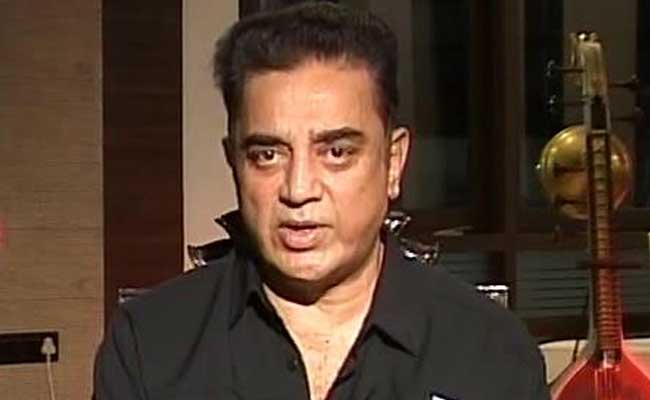 Chennai:
Actor-filmmaker Kamal Haasan set his Twitter followers and others wracking their minds with a Tamil poem that sounded like signaling entry into politics.
"Let us criticise as nobody now is the king. We will stand up as we are not a king like you. Defeated and dead then militant. If I decide, I am Chief Minister. Those who bow are they slaves? Those who give up crown are they losers?
"It is wrong to chase them as fools. The paths which are not searched will not be seen. Come with me friend, one who attempts to avoid fanaticism/superstition is a leader," Mr Haasan tweeted on Tuesday night.
The well-accomplished actor, at times outspoken, is facing the ire of several ministers in Tamil Nadu for his recent comment that there is corruption in all the state government departments.
Similarly some fringe outfits are also against the television reality show "Bigg Boss", hosted by Mr Haasan.
Reacting to the controversy surrounding Mr Haasan's views and the reality show, former Parliamentarian of AIADMK party KC Palaniswami told IANS: "The ministers pouncing on him is sort of a diversionary tactic from other issues like special facilities given to VK Sasikala in the Bengaluru prison and others."
He said Mr Haasan could have hosted a reality show in a village bringing the urban elite, actors and others involving them in farming activity-from buying the seeds till the produce is sold in the market.
"A reality show on this concept would have shown the travails of a farmer to the world and would have got the global acclaim. Actually farmers are the Big Bosses in the world. There are many crops that could be raised in 90 days and 'Bigg Boss' is a 100-days show," Mr Palaniswami said.
He does not agree that Mr Haasan is nurturing any political ambitions.
"There were criticisms against his show. His comment about corruption in government departments has deflected the criticism away from the show," Mr Palaniswami said.