Highlights
PM Narendra Modi was in Chennai to attend various functions
93-year-old DMK chief is recovering from a long illness
BJP sees AIADMK as natural ally, DMK is an ally of Congress
Chennai:
Prime Minister Narendra Modi was received by top DMK leaders MK Stalin and MK Kanimozhi as he arrived at the Chennai home of their father and party boss
M Karunanidhi
for what was described as a courtesy call. Mr Karunanidhi, 93 is recovering from a long illness and recently made his first public appearance in months at an exhibition.
PM Modi was in Chennai to attend several functions, including a local newspaper's celebration of 75 years. His visit to Mr Karunanidhi's Gopalapuram home was announced at the last minute.
The DMK is an ally of the Congress in Tamil Nadu and has been a steady member of a group of 18 opposition parties that have taken on the BJP in Parliament and outside over several issues at the national level national. PM Modi's BJP sees Tamil Nadu's ruling AIADMK as a natural ally, and DMK sources said there was no political signal in today's meeting.
PM Modi was at Mr Karunanidhi's residence for about 20 minutes. He also met Mr Karunanidhi's wives Dayalu Ammal and Rajathi Ammal.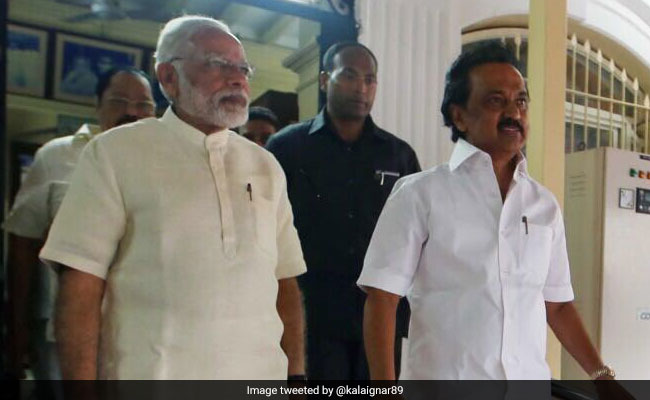 The BJP has had a negligible presence in Tamil Nadu, where politics has for many years been dominated by the two regional heavyweights. It sees in the AIADMK's current leadership crisis - caused by the death of its powerful leader and former chief minister J Jayalalithaa last December - an opportunity to expand its base in the state through an association with the state's ruling party ahead of local body elections and then the 2019 national election.
The Prime Minister was received at the airport by Chief Minister E Palaniswamy or EPS and Governor Banwarilal Purohit. PM Modi was on a packed visit that included attending the wedding of the daughter of Dr T V Somanathan, a retired official of the Prime Minister's Office, and the Chief Minister flew with him on a chopper to and from the airport to hold talks. EPS told reporters that he has asked "for a 1500 crore package from the Centre" for relief in Tamil Nadu, inundated after heavy rains.
Mr Karunanidhi, a five-time Chief Minister fell ill in October last year to a drug-induced allergy. He was admitted to Chennai's Kauvery Hospital twice in December last year, once for "optimisation of nutrition and hydration" and then due to a throat and lung infection. He had a tracheostomy to help him breathe better.
The
DMK patriarch made his first public appearance
this year on October 19 when he visited an exhibition in Chennai. Today, minutes after PM Modi left his home, he came out to wave to supporters and assure them that he is recovering well. Not seen for months since he fell ill, Mr Karunanidhi had last month visited exhibition of the office of Murasoli, the DMK's mouthpiece. A few days ago he presided over the wedding of his great grandson.