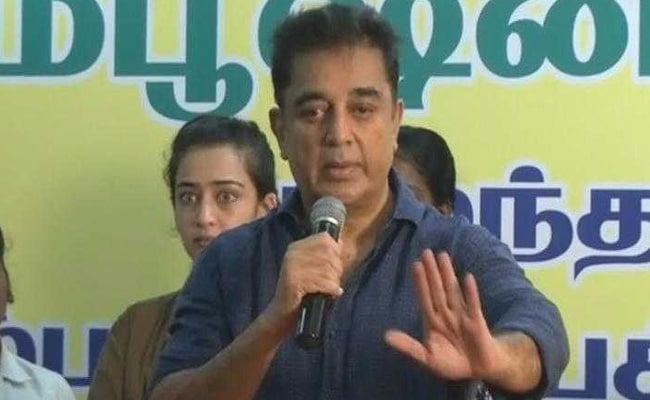 Highlights
'Criminals should not rule,' tweeted Kamal Haasan
1,430 crore unaccounted income unearthed during I-T raids: sources
Raids last week at J Jayalalithaa's home, VK Sasikala's relatives homes
Chennai:
Veteran actor Kamal Haasan, who is prepping for a political career, has ripped into Tamil Nadu's ruling AIADMK over last week's income tax raids targeting jailed party leader VK Sasikala and her family members at properties including former Chief Minister J Jayalalithaa's Chennai home.
"Theft by a government is a crime. Not proving after unravelling, isn't it a crime too?" the 63-year-old, an outspoken critic of the AIADMK, tweeted.
"Examination bell has gone. Criminals should not rule...People should turn judges. Let's wake up and arise. People should act. People should get the republic (state) function."
Sources in the Income Tax department claim to have unearthed 1,430 crore unaccounted income from raids over the past few days.
On Friday night, taxmen arrived at the sprawling Poes Garden home of Jayalalithaa
, who died in December, and reportedly seized a laptop, a desktop and six pen drives from the office of Jayalalithaa's secretary and two rooms used by Sasikala who lived with the former Chief Minister for decades till she died.
Sasikala, who is serving a four-year jail sentence for corruption, was sidelined recently by the ruling party. Her nephew TTV Dinakaran, who is fighting for control of the party along with a group of lawmakers, has blamed the raids on Chief Minister E Palaniswamy.
Kamal Haasan has weighed in on Tamil Nadu politics frequently over the past few months, making it clear that he plans to switch gears soon. But he did not announce his party on his birthday two weeks ago, as was widely anticipated. Instead, he announced the soon-to-be-launched whistelblower app, "
maiyamwhistle
", which the public and his fans could use to expose wrongdoings and shortcomings of the government.