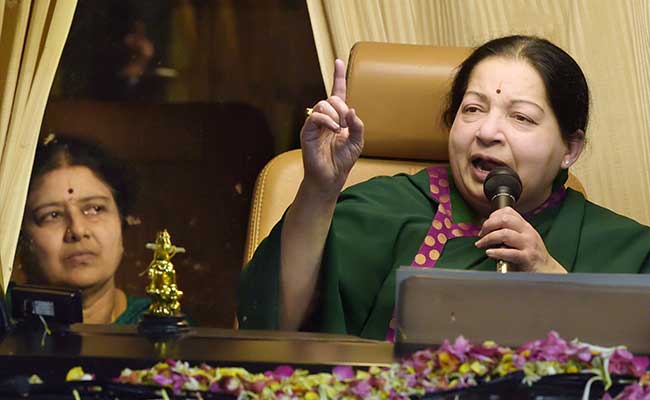 Chennai:
The Election Commission said on Friday that it had accepted the left thumb impression of former chief minister Jayalalithaa affixed on documents relating to a bypoll last year based on a letter by AIADMK presidium chairman E Madhusudhanan.
The letter had stated Jayalalithaa was not well and not in a position to sign the papers and hence the left thumb impression was attested by the doctor which can be taken on file, principal secretary of the Election Commission KF Wilfred said.
Justice P Velmurugan had summoned the official for giving evidence on an election plea filed by P Saravanan, DMK candidate for the November 2016 Thirupparankundram assembly bypoll, challenging the election of AIADMK candidate AK Bose.
When asked by the counsel for Mr Saravanan on what basis he had accepted the left thumb impression of the late Jayalalithaa, the official replied that it was based on the letter given to them on October 26 last year by Mr Madhusudhanan.
To another question about whether the commission checked who authorised Mr Madhusudhanan to give such a letter, the official said "We believed the letter be true."
Posting the matter to October 27, the judge directed Dr Balaji, who attested the thumb impression, to be present in court on that day with all the records.
During the pendency of the case, Mr Saravanan had filed an additional affidavit questioning the validity of the election documents.
He contended that the thumb impression of Jayalalithaa had been obtained without her consent and knowledge, while she was unconscious with the "connivance" of doctors who attended to the former chief minister, and others.
He had also questioned the decision taken by the EC to accept the left thumb impression of Jayalalithaa affixed on documents filed in support of the nomination papers.
He further submitted that following the attestation, the AIADMK candidate (Bose) was allowed to contest using the 'two leaves' symbol under the 'defective form A and form B' of the documents, which had materially "affected the outcome of the election".