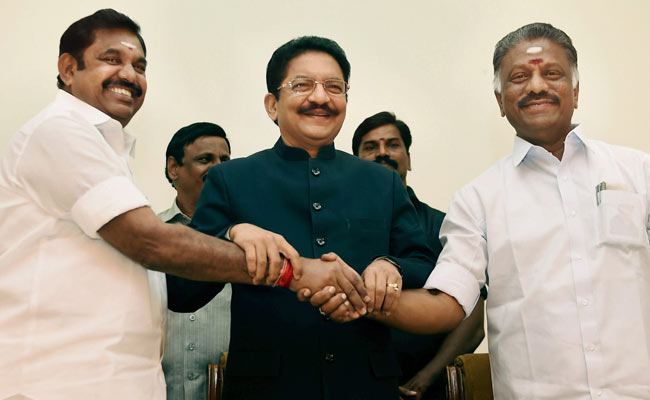 New Delhi:
Tamil Nadu's Opposition parties, led by the DMK, met President Ram Nath Kovind today requesting him to order an immediate trust vote in the state assembly to test the strength of the AIADMK's E Palaniswami government, which they allege has now lost majority support.
The group, that included leaders of the Congress and Left parties, accused Governor C. Vidyasagar Rao of being "partisan" in refusing to convene an assembly session for Chief Minister Palaniswami to prove he has a majority.
The opposition math, as explained to the President, is that with 19 AIADMK legislators rebelling against Mr Palaniswami or EPS and several others allegedly close to announcing their dissent, the government now has the support of only 113 MLAs against the 117 it needs for a majority in the assembly.
"Out of 234 Members of Legislative Assembly, the present AIADMK government has only the support of 113 MLAs including the Speaker. Whereas the MLAs opposed to the Government are 120 in numbers with lone vacancy. (DMK: 89, Congress: 8, IUML: 1 and Dissenting AIADMK MLAs: 22)," they said in a written request to the President.
The opposition team said they had met the Governor to request him to ask EPS to face a trust vote. The "Governor's delay in discharging his constitutional duties is causing a minority government to rule in the State unethically and unconstitutionally," they have alleged.
In Chennai, senior AIADMK leader a Member of Parliament V Maitreyan met the Governor today. Mr Maitreyan, along with other leaders like Thambidurai and former MP Manoj Pandian had met union Home Minister Rajnath Singh and Finance Minister Arun Jaitley earlier this week.
The BJP-led Centre - which backed the merger earlier this month of factions led by EPS and his predecessor and now deputy O Panneerselvam or OPS - has reportedly advised the party that if the DMK wants to test the state government's strength it must bring a no-confidence motion against it rather than asking the President or Governor to order a floor test.
19 MLAs of Tamil Nadu's ruling party have been parked in a Puducherry hotel for the last two weeks by the party's sidelined number 2 TTV Dhinakaran, who says that he and his aunt and party chief VK Sasikala have more support within the party. Before the 19 legislators left Chennai they met the governor and said EPS had lost their confidence and so they were withdrawing support to him and demanded a change of Chief Minister.
They rebelled after the merger, which the AIADMK with that of his predecessor and now second in command O Panneerselvam or OPS and they decided to throw out Ms Sasikala and Mr Dhinakaran.
The last time E Panneerselvam faced a trust vote was in February, when he was handpicked by Ms Sasikala to be Chief Minister after her own ambitions were crushed by the Supreme Court ordering her to jail.
He had won a dramatic trust vote that saw the Speaker evict 88 DMK members out of the assembly for violence. The DMK has challenged it in court.
O Panneerselvam and a handful of legislators that backed him had opposed Mr Palaniswami then. But since the merger and Mr Pannerselvam's appointment as Deputy Chief Minister they have declared that they are "brothers" who owe allegiance to their "mother," J Jayalalithaa the powerful AIADMK chief who died as chief minister in December last year.