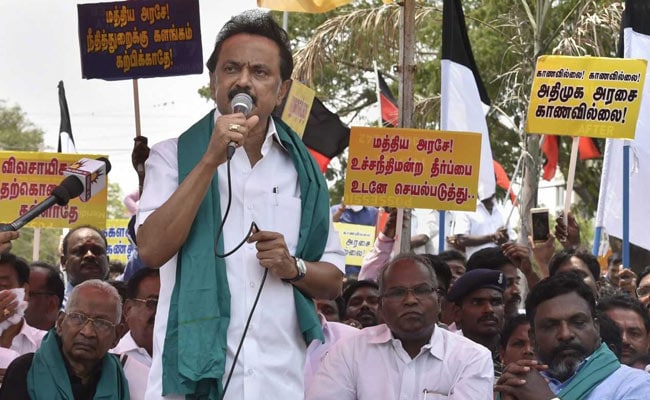 Chennai:
DMK today held a mock assembly session here and hit out at Tamil Nadu Chief Minister K Palaniswami over the recent Tuticorin police firings in which 13 persons were killed.
Seeking to intensify its attack and mobilise public opinion against the AIADMK government on the issue, party working president MK Stalin said such mock sessions of the assembly will be held across the state.
"This mock assembly is only a precursor. It will be held across Tamil Nadu to expose the AIADMK government which has betrayed the people," he said addressing the 'session' held at DMK headquarters here.
DMK has yesterday announced it would boycott the ongoing budget session of the state assembly until the Sterlite copper unit in Tuticorin was "permanently shut".
Sharpening his attack on the government over the police firings on May 22 and 23, Mr Stalin today sought legal action against those responsible for the deaths.
He "moved a resolution" for providing Rs one crore each as solatium for the kin of those killed in police firings.
The state government had announced a solatium of Rs 20 lakh each.
"This is an assembly of people's conscience gathered to send home those who are in power," Mr Stalin claimed, accusing the government of betraying people on issues including Cauvery.
He said it was during the AIADMK regime (when Jayalalithaa was the Chief Minister) the consent was given for the operation of the Sterlite's copper plant.
Mr Stalin reiterated his party's demand that cases be filed against those responsible for the police firings. A case should also be filed against the chief minister, he added.
The mock assembly saw the participation of lawmakers belonging to allies Congress and lone IUML member K A M Muhammad Abubacker.
S Karunas, (Mukkulathor Pulipadai) who won the 2016 Assembly election on the AIADMK's two leaves symbol as its ally, too attended the 'session' and strongly criticised the ruling party.
Deputy leader of DMK legislature party Duraimurugan mocked at the government for blaming his party for the violence, alleging that stones were hurled at vehicles belonging to his own partymen.
Mr Palaniswami yesterday accused the DMK of defying prohibitory orders and inciting violence during the protest on May 22.
Speaking in the assembly, he had also said Stalin, who enacted a "farcical drama," seeking Sterlite's closure, had allocated 230.63 acres for its expansion in 2009 when he was the industries minister.
(This story has not been edited by NDTV staff and is auto-generated from a syndicated feed.)