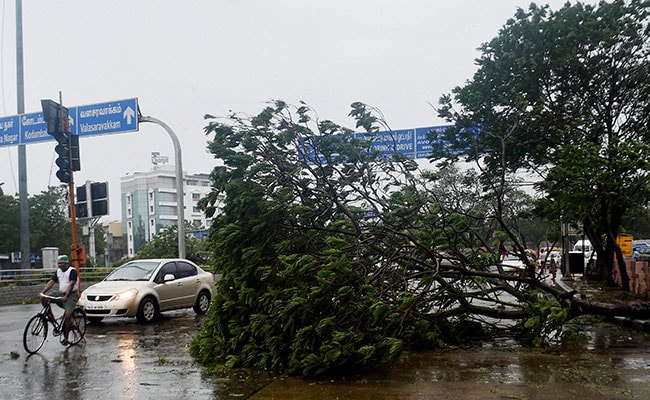 Highlights
Cyclone tore through Chennai yesterday, 4 dead in city
6 killed elsewhere, thousands evacuated, moved to camps
Schools, offices closed, airport reopens, buses are running
Chennai:
A day after Cyclone Vardah wreaked havoc in Chennai, Chief Minister O Panneerselvam wrote to Prime Minister Narendra Modi, asking for an immediate release of Rs 1,000 crore from National Disaster Response Fund for relief and reconstruction work in the state. In Tamil Nadu, the cyclone cost 16 lives, wrecked 7,000 houses, power infrastructure and felled thousands of trees. Nearly 14,000 people had to be evacuated to higher areas. This morning the cyclone weakened into a depression and caused heavy rain in interior Tamil Nadu, Karnataka and north Kerala.
Here are the 10 latest developments in this big story:
Chennai tried to recover from the wreckage the winds had left, slamming the city the evening before at a speed of 120 km per hour. Uprooted trees and crumpled hoardings and barricades were removed to clean up the roads. While the main roads have been cleared, it will take a few days to remove trees from residential areas, the authorities said.

Home Minister Rajnath Singh today reviewed the progress of relief operations in parts Tamil Nadu and Andhra Pradesh that have been affected by Cyclone Vardah.

Cyclone Vardah affected power generation at the North Chennai Thermal Power Station, the Power System Operation Corporation Ltd or POSOCO said. Two other units went out of operation on Monday. The authorities said it is not known when they will resume generation.

Chief Minister Panneerselvam told PM Modi that more than 10,000 electric poles have been mangled and more than 800 transformers damaged in Chennai, Kanchipuram and Thiruvallur districts.

Used to cash crunch, the residents of Chennai had a rude shock when hoteliers and shopkeepers refused to accept card payments, citing non-working point of sale terminals owing to network failure.

Cyclone Vardah had affected undersea digital cables, affecting all major internet service providers. Through the day, internet service was patchy and slow across the country.

Schools and offices remained closed today as heavy rains buffeted Chennai.

Sixteen people were killed by Cyclone Vardah -- four of them were residents of Chennai. Thousands who live near the sea had to be evacuated from their homes to relief camps run by the government.

The Chennai airport, which was closed for the whole of Monday, is back in action now, but some flights are delayed.

At the spot where former Tamil Nadu Chief Minister J. Jayalalithaa was buried a week ago at the city's famous Marina Beach, the canopy of her memorial remained intact despite the cyclonic winds. The stream of visitors to the memorial continued this morning.