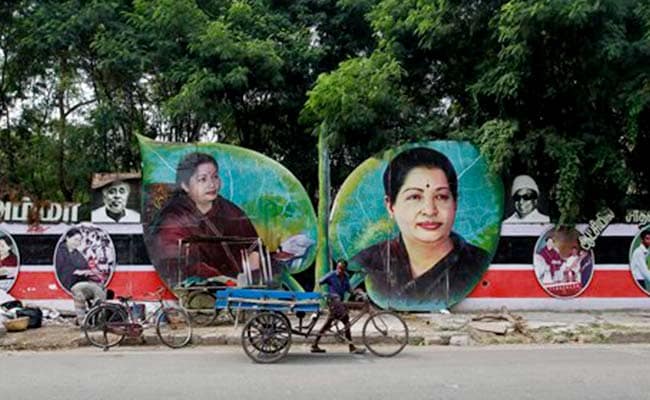 Chennai:
In a campaign video for the by-election to former Tamil Nadu chief minister J Jayalalithaa's RK Nagar assembly seat, the electric lamp symbol allotted to the O Panneerselvam faction of the AIADMK seems to settle in a green glow that resembles two leaves. The other faction headed by J Jayalalithaa's long-time companion VK Sasikala has complained that it is a misuse of the party's original two-leaf symbol, which has been frozen by the Election Commission. In reply to a notice from the poll panel, the O Panneerselvam or OPS camp has denied misusing the two-leaf symbol.
Here is a 10-Pointer on the controversy:
After the death in December of J Jayalalithaa, the ruling AIADMK's all-powerful chief, the party functioned as two factions - one headed by VK Sasikala who is now in jail in a corruption case and the other by O Panneerselvam , Ms Jayalalithaa's pick twice for chief minister when she had to step down.

Both sides say they are the "real" AIADMK and stake claim to the legacy of J Jayalalithaa or "Amma" as she was called by her lakhs of adoring supporters and fans. But the Election Commission banned both sides from using the famous two-leaf symbol on which Jayalalithaa won four terms a chief minister, the last a historic successive win months before she died at aged 68.

Team OPS is now called the AIADMK Puratchi Thalaivi Amma with the electric pole symbol and VK Sasikala's faction, fronted by her nephew TTV Dinakaran in her absence, is called the AIADMK Amma and has been allotted a hat as symbol.

Mr Dinakaran is his party's candidate for the by-election in RK Nagar, the seat that fell vacant when J Jayalalithaa died. O Panneerselvam has fielded veteran AIADMK leader E Madhusudhanan. The by-election will be held next week on April 12.

Ms Jayalalithaa's niece Deepa Jayakumar is also contesting the by-election and chief opposition party DMK says its Marudhu Ganesh will snatch the important seat away with the AIADMK votes likely to be split into three.

The Election Commission had issued a notice to OPS' party after Mr Dinakaran complained that Mr Madhusudanan is projecting the electric pole with two lamps as an extension of Amma's two-leaf symbol.

The AIADMK Puratchi Thalaivi Amma has alleged in its reply to the Election Commission that it is in fact Mr Dinakaran who is misusing the two-leaf symbol.

It has argued that it has used the two lamps as a metaphor - one lamp represents Ms Jayalalithaa's mentor MGR and the other Amma. "In some way, their soul is blessing us. When the Sasikala camp had an option to use the electric pole symbol, they refused to take it and now when we are using it creatively, they have a problem," former minister M Pandiarajan had said earlier.

O Panneerselvam was sworn in chief minister within a few hours after her death in a move reportedly engineered by VK Sasikala, who later took over as AIADMK chief and wanted to also be chief minister.

She was challenged by O Panneerselvam, but he could not get a majority of the party to support him though public opinion seemed stacked in his favour. Ms Sasakala's chief ministerial ambition was crushed when the Supreme Court sent her to jail in Bengaluru. Before she left Chennai she ensured that her proxy Edapadi Palanisawmy was installed as Chief Minister of Tamil Nadu and her family moved in to control her faction of the party.