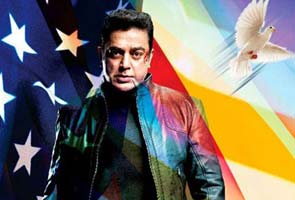 Chennai:
DMK chief M Karunanidhi today urged protesting Muslim groups to hold talks with Kamal Haasan to resolve their differences over his mega-budget thriller Vishwaroopam even as a Madras High Court judge watched the film to review the Tamil Nadu government's ban on it.
Mr Karunanidhi said the state government, which banned the film for two weeks, should cooperate in the matter.
Earlier, Justice K Venkatraman of the Madras High Court watched the movie to check if it indeed shows Muslims in poor light as has been claimed by several groups protesting against the film. The court's verdict on whether the film can be screened in Tamil Nadu is expected on Monday.
PS Raman, counsel for Kamal Haasan, said: "The judge reviewed the movie along with representatives from both sides. He will give the orders on January 28."
Although the censor board had cleared the Rs 95-crore film and it was slated for release yesterday, the Tamil Nadu government put it on hold on January 23. It cited law and order concerns following protests by groups against the film's portrayals of Muslims.
PMK founder S Ramadoss too has criticised the ban on the movie. "The Tamil Nadu government has been indulging in acts against the freedom of expression. If there is a law and order situation, it is the responsibility of the government to handle it. It is not appropriate to ban a movie," Mr Ramadoss said in a statement today.
Veteran Tamil film director Bharatiraja said the ban would not only affect Kamal Haasan but all artistes. "We do not know where to seek justice when a movie is banned despite a Censor Board certificate," he said.
Kamal Haasan has described the ban as "cultural terrorism" and the movie as "Muslim-friendly." He held a special screening of the film for the protesting groups but failed to win their approval. Following a petition filed by him, the Madras High Court on Thursday refused to rescind the ban but said that a judge would review the movie over the weekend.
Yesterday, southern superstar Rajinikanth appealed to Muslim groups to work with Kamal Haasan by suggesting changes that would not "affect the storyline". Lobbying against the ban on the film, he said, "I have known Kamal for 40 years. He would not hurt anyone."
The blackout of Vishwaroopam has spread from Tamil Nadu to other cities like Hyderabad and Bangalore. The movie was initially released in Andhra Pradesh yesterday, but the distributor later decided to cancel screenings in the state capital of Hyderabad. The film did not screen at all in Bangalore. Distributors in both cities said they did not want to provoke any violence.
While Vishwaroopam is temporarily banned in Tamil Nadu, Kamal Haasan is in the US for the movie's release there and its promotion; he is expected to return in a couple of days.
(With PTI inputs)