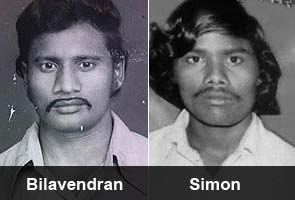 Chennai:
V Muthulakshmi, the wife of sandalwood smuggler Veerappan, will hold a protest to seek Tamil Nadu government's intervention to commute the death sentence of his four associates to a life sentence. As part of the protest, she plans to block a road at the Thalavadi checkpost in Erode district. President Pranab Mukherjee had rejected their mercy petitions last week.
"Jayalalithaa had passed a resolution in the Tamil Nadu Assembly for those death convicts in Rajiv Gandhi assassination case. These four people too are Tamils. They are not terrorists but innocent people wrongfully arrested. More than hundred people were acquitted in the case. So a resolution has to be passed for these people as well," she said.
Pro-Tamil groups in the state too have asked the government to pass a resolution to stay the hanging of the four men.
Not long ago, the Tamil Nadu Assembly had passed a resolution seeking commutation of the death sentence on three people in the Rajiv Gandhi assassination case, following widespread demand from all political parties in the state barring the Congress.
The four convicts - Gnanaprakash, Simon, Meesekar Madaiah and Bilavendran - have been on death row since 2004, when the Supreme Court sentenced them to death for killing 22 policemen and forest personnel from Tamil Nadu in a landmine blast at Palar, Karnataka. (
Read: Families of Veerappan's aides facing execution say trial was unfair
)
They are lodged in a jail in Belgaum, Karnataka. Muthulakshmi was herself arrested and acquitted in the same landmine blast case.
Human rights activists say though the Jayalalithaa government had spearheaded the hunt for Veerappan, there's nothing wrong in seeking commutation of death sentence to life imprisonment as the kingpin and his close associates have been eliminated. Mr Henry Tiphagne, Executive Director of People's Watch that fought the case, told NDTV, "Since Tamil Nadu was part of the joint Special Task Force to nab Veerappan, The state cabinet could pass a resolution seeking a stay on their execution and push for a life sentence for them."
However, government sources say Chief Minister Jayalalithaa alone can take a call on this.
On Saturday, the Supreme Court refused to urgently hear a plea by the four convicts seeking a stay on their execution which was then imminent to be carried on Sunday. The court said there was no evidence towards their claim. (
Read
) The petition, lawyers say points to the inordinate delay of nine years to dispose their mercy pleas by Presidents over the years, which has already been challenged by those convicted in Rajiv Gandhi assassination case.
However, the Supreme Court will today take up the petition asking to stay their execution.(
Read: Supreme Court to hear plea today to stay the execution of 4 Veerappan associates
)