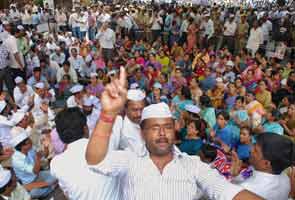 Hyderabad:
It has been 35 days of relentless protest in the Rayalaseema and coastal Andhra regions, together known as Seemandhra, against the creation of India's 29th state even as pro-Telangana groups continue to put pressure on the government to ensure there is no rollback of the Centre's decision announced in July.
With the Home Ministry indicating that a note on Telangana will be sent to the Union Cabinet within 20 days, which includes a proposal to convert Hyderabad into a Union Territory, it seems that the big fight in Andhra Pradesh would now be centred around the state capital.
War lines were literally drawn at the state Secretariat today with police barricades ensuring there is no direct clash between the pro- and anti-Telangana groups.
"Many opportunities are there in Hyderabad. Every family in Seemandhra has someone or the other in Hyderabad. That is why we feel state should not be separated. We want united Andhra Pradesh,'' an anti-Telangana protester told NDTV.
The Hyderabad Police imposed Section 144 within two km of the Secretariat and the state Assembly from September 4 to 10. The police also banned any rally or dharna during the period.
A call for a "march to Hyderabad to save Andhra Pradesh" has been given by the anti-Telangana groups on September 7.
Inside the state Assembly, over 60 Seemandhra lawmakers and ministers protested against the creation of Telangana.
The three-hour protest was organised by the United Andhra Pradesh Congress MLAs and MLCs Forum, a platform formed against the creation of India's 29th state.
The Centre has indicated that it will take the Telangana proposal forward without running it by the Andhra Pradesh assembly first.
Yesterday, nine Members of Parliament or MPs were suspended for disrupting proceedings. Four of the suspended parliamentarians belong to the Telugu Desam Party (TDP) headed by Chandrababu Naidu; the others were from the ruling Congress.