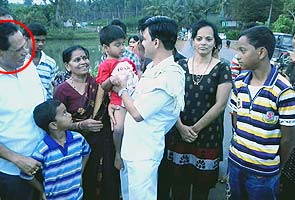 Bangalore:
Karnataka minister Kimmane Ratnakar was driving in his official car in the Shimoga district of the state when he saw a car plunging into a lake.
There were three adults and three children in the car that was slowly sinking into the water.
The driver managed to crawl out of his window, but his wife and mother and the children were trapped.
The minister ordered his staff - two drivers and a gunman - to dive into the lake. They rescued the passengers.
The driver, Uday Kumar, told NDTV that a problem with the steering wheel forced the car into the lake.
"Anybody would have stopped to help," said the minister who handles education for the state. "My driver swam to help the family. Passers -by also helped them," he said. (
Watch
)