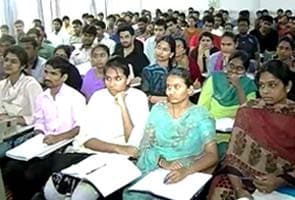 Hyderabad:
Beaming graduates' photos on the notice board transmit the success rate of Brain Tree, a training institute for civil service aspirants in the Himayatnagar area of Hyderabad.
"At least a few of these faces who made it to the top ranks in the IAS (Indian Administrative Services) would not have been here if the new notification by the UPSC had come earlier," says Gopal Krishna, founder-director of the centre.
On March 5, the Union Public Service Commission or UPSC said it was changing the rules of the exams for the civil services. An English test would count for 100 marks and students could not answer other exams in a regional language unless they could prove that they had graduated from a school where classes were taught in that language.
(Read)
Some 15,000 students from Andhra Pradesh appear for the UPSC exam every year, of which some 500 make it to the "Mains" or advanced stage. Nearly one in every six chooses to take the exam in Telugu, because they're not as comfortable or fluent in English.
Critics says the UPSC changes - which were suspended by the government today - discriminate against regional languages and would make entry into the country's governance apparatus exclusive rather than inclusive. They argue that students from rural India with little access to an English education would be impacted, as would students from South Indian states (most of the exams could be taken in English or Hindi, the UPSC had suggested).
Upto 95 per cent of the students who have applied to take the civil services exam in Andhra Pradesh this year are engineers.
"For Engineering, English skills are not required. We do very well in technical subjects. But we have a problem as far as expression in English is concerned," says Ramesh, an engineer from rural Mahbubnagar.
"My subject knowledge is strong. I feel I can express myself better in Telugu. Can't English be learnt after we crack the IAS exam? In English, I will make grammatical mistakes and there is danger of my losing marks. So rural people like me will suffer," he says.