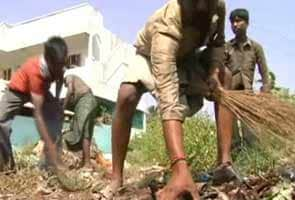 Cuddalore:
The District Collector of Cuddalore has invoked this lesser known provision of Section 144 of Criminal Procedure Code (CrPC) to protect public health. According to the order, residents and shop keepers in the district ought to spend one hour every Thursday to clean their surrounding from 11 AM to 12 PM. They have to ensure there is no stagnant water that would help mosquitoes breed. Those who harbour mosquitoes are booked and their properties sealed, if required.
Dengue has claimed around 25 lives across Tamil Nadu. So far, around 3000 people have tested positive for the disease. District Collector Rajendra Ratnoo told NDTV, "This does not mean there is an emergency, this means an emergency situation should not arise. Therefore it's a preventive action taken".
A good number of residents and schools participate in this community effort with enthusiasm. Mr G S Rajayogakumar, Principal of ARLM Matriculation School told NDTV, "I feel every individual has started feeling the impact of the campaign against Dengue. We get good cooperation".
Babu, who runs a workshop, was busy cleaning up his garage along with his colleagues at the appointed hour on Thursday. He says, "Everyone understands that mosquitoes causing Dengue breed in fresh water; so we don't let water remain in bottles, or trays in our shed".
But a few shops away, authorities have sealed a vulcanising shop. Hundreds of tyres around the shop had water in them. An official told NDTV "these are perfect places for mosquitoes to breed". But some are critical of this campaign.
Another resident Suresh told NDTV, "Authorities can't take public to task for their failure; let the government first provide us good drainage facility".
The district administration has deputed around three hundred officials to oversee this campaign. The Collector, Rajendra Ratnoo himself inspects many areas.
A legal provision that's often abused is fighting mosquitoes and winning many people's hearts- Certainly a model worth emulating for a healthier environment.