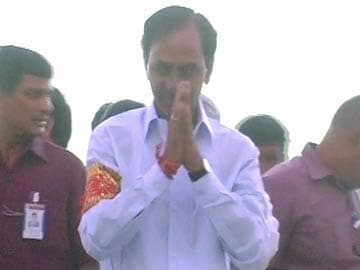 Hyderabad:
Telangana Chief Minister K Chandrasekhar Rao today admitted he had been called a Hitler and he was not ashamed about it. ''I am a Hitler and I will be worse than Hitler if need be, to stop illegalities," he said.
Mr Rao was defending the decision by his government to hold a Rs 20-crore day-long survey of Telangana residents on August 19 to ensure that welfare schemes and benefits reach the most needy. (
Discrimination Fears Rife in Telangana as State Prepares for Survey
)
KCR was addressing media personnel a couple of hours after meeting Andhra Pradesh Chief Minister Chandrababu Naidu.
Governor ESL Narasimhan had earlier played match-maker and set up a date for Mr Rao and Mr Naidu. The two chief ministers met at Raj Bhavan in Hyderabad this afternoon to try and thrash out differences between the two states. (
A Temple for KCR Near Hyderabad Thanks Him for Telangana
)
Before the meeting, Mr Naidu held a press conference to release a white paper with details about what Andhra Pradesh had lost because of its bifurcation. (
Telangana Chief Minister Against Handing of Hyderabad's Law and Order to Governor
)
Mr Rao later claimed that he and Mr Naidu had had a very cordial and fruitful meeting; they had discussed distribution of nearly 4,500 state government employees of the erstwhile Andhra Pradesh government. (
Also Read: In KCR's Constituency, Hopeless Farmers are Taking a Drastic Way Out
)
The two chief ministers also decided that the Telangana Assembly would be convened after the Andhra Pradesh assembly session that begins tomorrow, ends after the first week of September.
The two states will share a common capital, Hyderabad, for the next 10 years, in accordance with the AP Reorganisation Act that was passed in Parliament in February.
But things have been far from hunky dory between the two chief ministers. They have been making sarcastic comments against each other, often appearing to be bitter political foes who could not co-exist in the same city. They have also accused each other of being vindictive against people from the other region. (
Also Read: KCR 'Offended' by Anti-Telangana Content, Two Channels Blacked Out
)
Mr Rao and Mr Naidu were once members of the Telugu Desam Party. Mr Rao was in fact minister in Mr Naidu's Cabinet but in 1999 he quit after being denied a ministerial berth. In 2001, KCR started the Telangana Rashtra Samiti, to fight for a separate Telangana state.