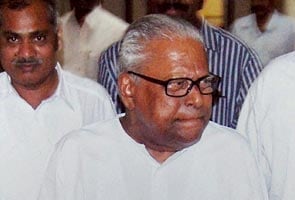 Thiruvananthapuram:
Kerala's iconic Marxist and former Chief Minister V S Achuthanandan turned 90 today.
A leader whose life has been a relentless struggle not only against injustices and indignities of a class and caste riven society, but also "revisionist" trends in his own movement, his 90th birthday was devoid of any colourful celebrations.
But this time round, under gentle persuasion from and close aides and well wishers, the CPI(M) stalwart agreed to cut a birthday cake before joining lunch with his wife Vasumathi and other family members at his official residence Cantonment House in Thiruvananthapuram.
"As in the past, I will continue my struggle against corruption and anti-people policies...", Mr Achuthanandan said in a brief birthday message and went on to blast the UDF Government headed by Ommen Chandy over the solar scam.
A founder leader of CPI(M) after the split in undivided CPI(M) in 1964, he is no stranger to controversies.
He was in the news even on the eve of his 90th birthday for critical comments against the party's state leadership controlled by his bete noire Pinarayi Vijayan. The central party has openly voiced its displeasure at the damning comments he made against the state leadership.
Velikkakath Sankaran Achuthanandan was born on October 20, 1923 in a working class family at Punnapra in Alappuzha district.
Compelled to end formal education at the primary stage, he was soon attracted to the fledgling trade union movement in Alapuzha, a bustling commercial town in the early decades of last century.
His life since then has been inseparably linked with the history of the Communist movement in the state through all its vital moments like the Punnapra-Vayalar uprising, nationwide ban on the party following the 'Calcutta thesis", split in the movement, arrest of CPI(M) leaders during the India-China war and the internal emergency and faction feuds in the party.
An astute campaigner and shrewd strategist, Mr Achuthanandan has played a vital role along with late E M S Namboodiripad, A K Gopalan and E K Nayanar in building the CPI(M) as the biggest Communist group in the state after the 1964 split.
He became a CPI(M) politbureau member in 1996 but was dropped from the top organisational body a few years back for speaking against the party's official line on a corruption case involving Pinarayi Vijayan.
Mr Achuthanandan headed the LDF ministry in 2006-11, defeating designs by his rivals in the party to sideline him.
Though he has lost much of his hold in the organisation, he continues to be the most popular Left leader in the state, acceptable to even large sections who are not directly part of the CPI(M).
Instead of narrowly confining to party politics, in recent times he has taken up larger human concerns like threat to the environment and women's rights.
Dubbed by critics as a doctrinaire Marxist in the past, Mr Achuthanandan has also in the last several years tapped the potential of legal processes in his fight against corruption.
A stickler to strict routine in personal life, he is free from any physical or mental debilities associated with advanced years and the loud and clear message he gave out at 90 is he will be around as a political warrior.