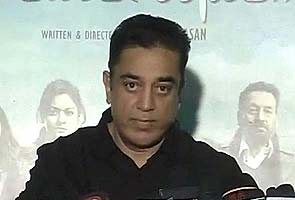 Chennai:
Actor Kamal Haasan will appeal to the Supreme Court to rescind a two-week ban on his mega-budget Vishwaroopam. He lost his case in the Madras High Court today, minutes after he announced he had "settled amicably" with Muslim groups by agreeing to delete contentious scenes and words from the movie.
It was a day of incredible plot twists for the actor-director-producer. Late in the afternoon, he announced he would re-edit his film, removing a list of scenes and words furnished by Muslim groups. "My Muslim family has reached out to me...we have settled amicably...there are no more differences between me and my Muslim brothers," he said.
The compromise contrasted with the firm stand he took at a press conference this morning, where he suggested the battle over Vishwaroopam is a crucible of India's secularism and threatened to leave Tamil Nadu if the ban on the movie was not lifted. "If there is no secular state in India, I would go overseas," he said. Blaming the state government, he said, "It appears Tamil Nadu wants me out...but I will always remain Tamil and an Indian."
The ban on the movie was introduced by the Tamil Nadu government last week. It was lifted by a Madras High Court judge last night, who had reviewed Vishwaroopam. But the government appealed against that verdict in the High Court today, and won.
Petrol bombs were hurled at two theatres 600 kms from Chennai which were scheduled to show Vishwaroopam. Nobody was hurt; glass windows were shattered.
Kamal Haasan's offer to make changes to his film may be based on his financial vulnerability as a producer of the big-budget film. He shared today that his house and other properties have been pledged to a money-lender. His brother, Chandra, who co-produced Vishwaroopam, has said the movie has lost between 30 and 60 crores because it has not screened as scheduled in Tamil Nadu.