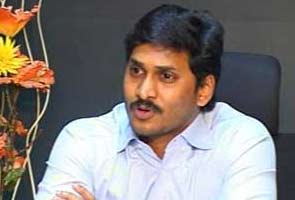 Hyderabad:
Andhra Pradesh High Court on Monday rejected the bail plea of YSR Congress chief Y S Jaganmohan Reddy who has been in jail since May 27 in connection with the disproportionate assets case.
Jagan had argued in his plea that he was entitled to get bail as a matter of right under section 167(2) of CrPC as the CBI had failed to file charge sheet in the case within 90 days of the arrest as required.
However, CBI contended that the issue of statutory bail was argued at length in Supreme Court and the accused could not raise this issue again.
Justice B Seshasayana Reddy upheld CBI's argument and observed that the Supreme Court had considered all allegations against Jaganmohan Reddy and CBI was given time to file a comprehensive charge sheet and during the pendency of investigation, Jaganmohan Reddy was not entitled to get bail.
The court said that CBI had filed chargesheet in VANPIC (Vadrevu and Nizampatnam Port Industrial Corridor) case and he was lodged in judicial custody and was not shown to have been arrested in other cases.
On November 28, a special CBI court had dismissed his statutory bail petition observing that "granting bail at this stage of pending investigation will not only impede the investigation, but also infringe the avowed purpose set out by the Supreme Court in its order".
His second bail plea was also dismissed subsequently on December 4 after which Jagan moved the High Court.
VANPIC project's promoter (industrialist Nimmagadda Prasad) allegedly invested Rs 854 crore in the companies owned by Jagan even as the then AP government led by late YS Rajasekhara Reddy, doled out many favours to the project.
Jagan, who was arrested on May 27 by CBI on corruption charges, is presently under judicial remand and lodged at the Chanchalguda Central Prison in Hyderabad.
Earlier, on October 5, the Supreme Court had dismissed Jagan's bail plea in the disproportionate assets case and ordered that he was open to renew his bail plea before the trial court "on completion of the investigation by the CBI in seven other aspects."
The CBI had earlier told the Supreme Court that it would be filing a final charge sheet in seven cases, namely, Sandur Power, Bharati/Raghuram Cements, Dalmia Cements, India Cements, Kolkata-based suitcase companies that sent money to Jagan companies, Lepakshi knowledge hub project and Indu Projects.
The central agency has so far filed four charge sheets against Jagan and others in as many cases.
The CBI has accused him and his late father and then Andhra Pradesh Chief Minister YS Rajasekhara Reddy of hatching a conspiracy to defraud the government with Jagan influencing his father in doling out certain favours to various investors, who made investments of several crores into Jagan's businesses (at very high premium) as a quid-pro-quo.
Meanwhile, former Andhra Pradesh Minister Mopidevi Venkata Ramana Rao, an accused in the Jagan assets case, was on Monday released from jail to enable him to go for Sabrimala pilgrimage under an interim bail.
The court has asked him to surrender before it on January 3, 2013.