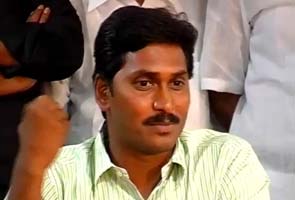 Hyderabad:
Andhra Pradesh's industries minister J Geetha Reddy has been named accused in a fresh chargesheet filed today in a disproportionate assets case involving YSR Congress party president YS Jagan Mohan Reddy.
Two chargesheets were filed on Tuesday, one in the Lepakshi Knowledge Hub case and another in the Indu projects case. Along with Geetha Reddy, her former colleagues Dharmana Prasad Rao and Sabitha Indra Reddy are also named as accused. The two ministers had quit in May after being named accused in previous chargesheets filed in the case.
Senior IAS officers Ratna Prabha and M Samuel, and suspended IAS officer BP Acharya are among six officers named as accused. So is Shyam Prasad Reddy, promoter of Indu projects.
Geetha Reddy was earlier quizzed by the CBI about the allotment of 8848 acres of land to Lepakshi Knowledge Hub in Anantapur district when she was a minister in the government of late YS Rajasekhara Reddy, father of Jagan Mohan Reddy, who is in jail since May last year.
It is one of the several alleged quid-pro-quo deals being probed by the CBI, which has alleged that Jagan Mohan Reddy conspired with his father to dole out favours to certain firms and individuals which invested money in his business.
Dharmana Prasad Rao had also been questioned about the allotment of land to Lepakshi Knowledge Hub (LKH) as he was holding the revenue portfolio in Rajasekhara Reddy's cabinet.
LKH signed an MoU with the state industries department in February 2009 for setting up a global knowledge hub by providing integrated infrastructure support to a range of activities, including education clusters, science and technology parks, medical, aviation and aerospace and IT parks. The MoU has been struck down by the AP government.
Tomorrow, the CBI is expected to respond to the notice on the bail application moved by Mr Reddy's counsel last week.
The Supreme Court on May 9 this year had said that Mr Reddy can apply for bail after the final chargesheets are filed in the case.
Yesterday, former minister Mopidevi Venkatramana, who was in jail with Mr Reddy, was granted interim bail till October 31 on medical grounds.