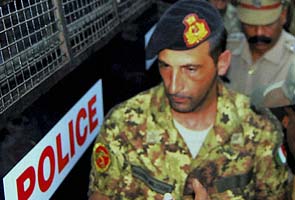 Kochi:
Foreign Minister SM Krishna met Kerala Chief Minister Oommen Chandy in Kochi today and discussed the controversy over the arrest of two Italian marines. After the meeting, Mr Krishna indicated that the Centre backs Kerala's stand on the matter.
"The Kerala government rightly took the Italian Marines into custody. The court will decide as to how this impasse can be resolved," the minister declared. "This does not impact cordial relations with Italy," he added. His meeting with the Chief Minister took place on the sidelines of a passport centre inauguration function in the state.
The two Italian marines, Latore Massimiliano and Salvatore Gironi, were arrested for allegedly gunning down two Indian fishermen off Kollam coast on February 15. They were guarding Italian merchant vessel Enrica Lexie when they allegedly mistook the fishermen - Ajesh Binki, 25, from Tamil Nadu and Jelestine, 45, from Kerala - for Somalian pirates and fired at them.
Italy wants the two marines to be shifted to their home country to face trial. Italian Defence Minister Giam Paolo di Paolo met Mr Chandy last week to press for this demand.
But notwithstanding the pressure being mounted by Italy, Mr Chandy yesterday ruled out their transfer. "Our stand is very clear, very open...The two soldiers of Italy committed a crime within the purview of Indian law...They have to face this trial. That is our stand," he said.