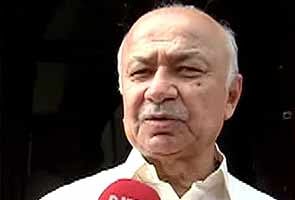 Hyderabad:
The BJP in Andhra Pradesh on Wednesday appealed to Union Home Minister Sushil kumar Shinde to invite Congress President Sonia Gandhi for the December 28 all-party meeting on the Telangana issue.
In a letter to Shinde, State BJP President G Kishan Reddy said besides Gandhi, Telugu Desam Party (TDP) chief N Chandrababu Naidu and YSR Congress Honorary President Y S Vijayamma should also be invited for the meeting to know the stand of these parties on statehood for Telangana.
These parties, including ruling Congress, have been betraying the people of Telangana by not taking a firm and clear stand on the decades-old statehood issue, he alleged.
BJP, which favours creation of a separate Telangana state, will send two representatives to the meet in New Delhi, Reddy told reporters in Hyderabad.
The BJP leader expressed the hope that a positive outcome would emerge from the meeting and it would pave the way for fulfilling the demand of the people of the region.
Shinde has invited nine recognised political parties of the state and asked them to nominate two representatives each for the conclave.