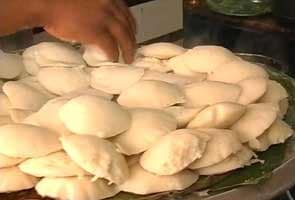 Bangalore:
Idlis, perhaps South India's most famous culinary export, are considered healthier than dosas and supposedly help one lose weight. But now, it's the modest Idli, steamed minus any oil, which is losing weight. The size and weight of idlis served at Bangalore's restaurants and cafeterias are down by a few centimetres and grams respectively. It's the same case with the idli's inseparable companion, the crispy vada.
The circumference of the idli - which is usually 9 cm - is down to 6 cm in many Bangalore hotels, and the sambar which comes with it for free has turned more watery. Hotel owners attribute this to the surging price of ingredients that go in the making of these South Indian delicacies, mainly rice and urad dal - as well as the increase in the price of cooking gas.
The price of an LPG cylinder is up at Rs. 1,700 from Rs. 1,200 last year. Urad dal costs 75 rupees a kg today, 20 rupees more than last year. And rice, which cost Rs 37 just three months back, is now selling at 51 rupees.
The reduced size of the idlis means its ardent fans have to make do with less or buy additional helpings. Sridhar, a regular at Commercial Street, which hosts many small idli vendors says, "A plate of two would usually be sufficient for an adult looking for an average size bite. Not anymore. The idlis now are lighter in weight and we are paying more for less. "
At the popular Brahmin's Coffee Bar in South Bangalore, the idli's downsizing is not preventing customers from flocking its tables. Rajasekhara, a loyal customer here says, "We come back for the quality. South Indians cannot do without idli and vada. And this place is the address for the best idlis in town."
The price per idli at Brahmin's Cafe is 12 rupees. Radhakrishna Adiga, the owner of the hotel, says, "Our taste is what people come back for. And we try as much as possible to not pass the burden on to our customers. But inflation is pinching us so hard that we are forced to rethink on price per plate once every six months. We have only increased the price by a rupee or two."
Some vendors are even investing in smaller idli plates and moulds, in a bid to remain profitable. They say their formula is simple: price-up or downsize.