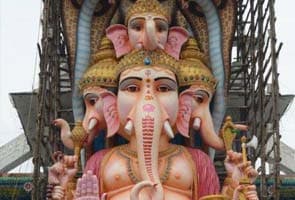 Hyderabad:
Ganesh Chaturthi was celebrated with traditional fervour and gaiety across Andhra Pradesh today. Devotees performed puja to mark 'Vinayaka Chavithi', as the festival is called in the state, at homes and visited temples to offer prayers.
Idols of Lord Ganesh were also installed in nook and corners of the city and in cities and towns across the state for community worship.
Governor ESL Narasimhan offered prayers at the famous Khairatabad idol, said to be 59-ft tall. The idol at Khairatabad is famous for its size and attracts thousands of pilgrims during the festivities every year.
A huge laddu, about 4,000 kgs in weight, has been brought from East Godavari district as 'prasadam' for Khairatabad Ganesh. It was put in the hand of the idol by using a crane.
The pandal organisers at some places in the state installed the idols made in a variety of ways like dry fruits and beads.
The civic authorities in Hyderabad conducted an extensive campaign in run up to the festival to promote the use of clay Ganeshas.
The idols are immersed in the Hussain Sagar lake here after worshipping for nine days and the use of materials hazardous to the environment in making the idols caused damage to the lake.
Meanwhile, the united-Andhra supporters highlighted their cause in the pandals installed in the Coastal Andhra and Rayalaseema regions.