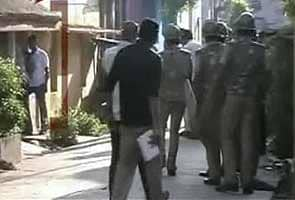 Hyderabad:
A policeman has been killed and another injured in an ongoing encounter with suspected militants in the Chittoor district of Andhra Pradesh, according to reports.
A police team comprising cops from Andhra Pradesh and Tamil Nadu have surrounded the men, who are believed to be heavily armed. Teams from Andhra Pradesh's anti-terror force, Organisation To Counter Terrorist Operations or OCTOPUS, have been rushed to the spot to assist the police, officials said.
According to news agency IANS, a Tamil Nadu police party had come under fire by the men today when they were conducting a search operation in a residential area in Puttur town, which is 30 km from the temple town of Tirupati and close to Tamil Nadu.
Policemen have reportedly surrounded the house where four to five alleged militants, including a woman and a child, are believed to be holed up. According to local residents, the group had taken the house on rent about a month ago.
Police sources say the men are suspected to be behind the killing of Bharatiya Janata Party's Tamil Nadu unit general secretary V Ramesh, who was attacked fatally with sharp-edged weapons near his house in July.