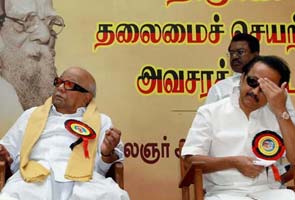 Chennai:
At the age of 87, politician M Karunanidhi cannot contemplate retirement.
The competition between his two sons - MK Alagiri and MK Stalin - remains fierce and divise for their party, the DMK, which is the biggest ally of Dr Manmohan Singh's coalition government.
Mr Karunanidhi met this morning with Mr Alagiri, who is a union minister, but would reportedly prefer to take on the running of the party in Tamil Nadu. But a few weeks ago, the DMK chief suggested that job was reserved for Mr Stalin, who is currently at third place in the party's hierarchy.
At a public meeting in the first week of January Mr Karunanidhi said, "I would struggle for the upliftment of oppressed communities all my lifetime and for the question who after that, please don't forget M K Stalin, on the dais".
Mr Alagiri shot back, "The DMK is not a mutt (religious body) to appoint a successor."
His father blamed the media for twisting his statement and said he had only suggested that Mr Stalin would continue the social work he has begun. But then he added, "If there's an opportunity to propose Stalin's name for Presidentship I would do it".
In 2010, when Mr Karunanidhi was reportedly close to announcing his retirement from politics, he was forced to change his plans on account of the sibling rivalry raging between his sons. At that time, Mr Alagiri had said, "I can't accept anyone other than my father as President of the party. If there was election after him for the Party President, I would contest".
While Mr Alagiri was deputed to represent the party in the union government in Delhi, Mr Stalin was groomed in key roles for the DMK with stints as the Mayor of Chennai, and a turn as Deputy Chief Minister when his father headed the state government.
On January 30, Mr Alagiri is scheduled to celebrate his birthday in his stronghold on Madurai with a massive show of strength. The party is hoping that by then, the first family will have reached an agreement that ceases public outbursts within its Generation Next.