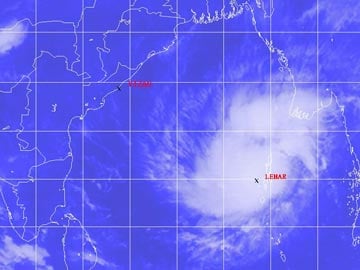 Hyderabad:
After cyclone Phailin and cyclone Helen last week, a new severe cyclonic storm, named cyclone Lehar is looming over the southeast Bay of Bengal and is expected to cross Andhra Pradesh coast between Machilipatnam and Kalingapatnam near Kakinada a little after noon on Thursday.
As of now the system is said to be moving westwards with a speed of 15 kmph till evening today, but the system would intensify further and move west-northwestwards. From moderate rains and squally winds at 45-55 km per hour tomorrow, windspeeds could be upto 200 km as the system comes closer.
33 National Disaster Response Force (NDRF) teams are being deployed. There will be 16 teams in East Godavari, six each in Vizag and Krishna and five teams in West Godavari.
With the sea coast expected to be rough, extensive damage to kutcha houses, disruption of communication and power lines, road and rail traffic can be expected. There could be potential threat from flying debris and flooding of escape routes and also extensive damage to agricultural crops, a release issued by the state's disaster commissioner has warned.
Fishermen out at sea along and off Andhra Pradesh have been advised to return to coast. Evacuation from low-lying areas in four districts, Krishna, East and West Godavari and Visakhapatnam, will be undertaken from tomorrow. Special officers have been nominated for the nine coastal districts. Round the clock control rooms at Secretariat- 040 - 23452144 and 23451043 have been opened and operating.
The state government has also sought four helicopters from defence secretary to be stationed at Visakhapatnam. Along with the Army and Railways, the Coast Guard, Coastal Security wing, Marine Police, and district police have been alerted.
District Collectors have been asked to ensure adequate supplies of food, drinking water, medicines, fuel in vulnerable areas. Evacuation from low-lying areas could begin tomorrow afternoon. Relief centres are also being opened.
Out of 580 marine villages in nine coastal districts, 529 villages have been contacted so far. Out of 6160 boats that have ventured into sea 5550 boats have returned.