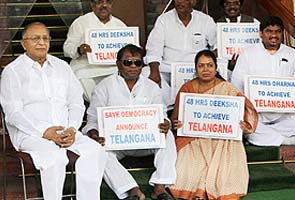 New Delhi:
Five Congress MPs today ended their 48-hour agitation inside the Parliament complex demanding statehood for Telangana.
"We have concluded our agitation at 11 am. We are definitely expecting a positive result on this issue and we are sure that the message has reached the party high command and top government level," said Ponnam Prabhakar, one of the protesting MPs.
The protesting MPs had alleged that the Andhra Pradesh government is misleading the party high command on the Telangana issue.
The agitation began on Monday at 11 am.
Congress had called for "restraint" on the Telangana issue with spokesperson Renuka Choudhury saying that the matter is being examined by the government.