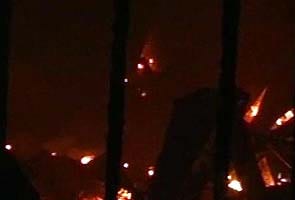 Hyderabad:
The Andhra Pradesh government on Tuesday ordered a Directorate General of Civil Aviation (DGCA) and CBI probe into the fire incident at Old Airport in Begumpet in Hyderabad on Monday night in which a government helicopter and four planes were mysteriously gutted.
A team from Delhi will come and investigate the incident in which the chopper used by the chief minister was gutted.
However, no one was injured in the incident started at around 11.35 pm.
According to sources, the fire allegedly started after three explosions, resulting into huge flames.
At least six fire engines were pressed into service to douse the flames, they said, adding that the hangar (flight repair shed) collapsed in the incident.
"The blaze was brought under control, though, the shed got damaged in the fire and one plane and a helicopter were suspected destroyed," a fire officer said.
"Exact cause of the fire is under investigation," Assistant District Fire Officer Bhagwan Reddy said.
The airport is mostly used for landing of VIP planes.
The Chief Minister has also asked senior officials to visit the site of the accident and see if the plane is insured.
(With PTI inputs)