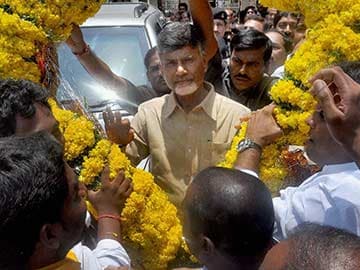 Hyderabad:
Telugu Desam Party (TDP) President N Chandrababu Naidu will be sworn in as the first Chief Minister of new Andhra Pradesh at a grand function today.
Governor E S L Narasimhan will administer the oath of office and secrecy to Mr Naidu at a public function to be held at Nagarjuna Nagar between Vijayawada and Guntur at 7.27 pm.
Some Cabinet ministers will also be sworn-in, but their exact number is not known yet.
A host of dignitaries, including 15 Union ministers, six Chief Ministers of various states, film stars and veteran BJP leaders like L K Advani and Murali Manohar Joshi, besides chief ministers of Gujarat, Chhattisgarh, Rajasthan, Odisha, Punjab and Goa are expected to attend, sources said.
Madhya Pradesh Chief Minister's attendance is not confirmed yet, according to Chief Secretary IYR Krishna Rao and Director General of Police JV Ramudu.
Telangana Chief Minister K Chandrasekhar Rao and YSR Congress president Y S Jaganmohan Reddy will not be attending the swearing-in though Mr Naidu has extended personal invitations to them.
Soon after taking oath, Mr Naidu will sign a file relating to waiver of crop loans to farmers and also loans to women self-help groups.
Modalities for the waiver however will be worked out subsequently.
Mr Naidu had talked about waiving off the crop loans during his Assembly Poll campaigning.
He may also sign a second file ordering closure of all "belt shops" (unauthorised liquor vends in villages) across the state, TDP sources said.
The "NTR Sujala", the scheme for supply of safe drinking water to rural habitations, is also likely to be cleared on the occasion.
It is also expected that Mr Naidu may also announce the location of the Capital for the new state, though Hyderabad will be the "common capital" for Telangana and Andhra Pradesh for the next ten years.