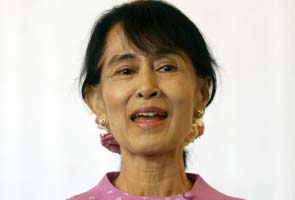 Hyderabad:
Myanmar's democracy icon Aung San Suu Kyi plans to visit Papasanipalli village in Andhra Pradesh's Anantapur district on November 17 to witness rural development programmes.
Suu Kyi will be accompanied by Union Rural Development Minister Jairam Ramesh and Chief Minister N Kiran Kumar Reddy will visit, official sources said in Hyderabad on Wednesday.
They will witness a powerpoint presentation on rural development and interact with members of self-help groups and witness NREGS activities, they said.
Meanwhile, the chief minister plans to visit Bangalore on Friday to attend the Southern Zonal Council meeting.
On Sunday, he will inaugurate the Malyala Lift Irrigation Scheme and open the AVR-HNSS irrigation project, sources said.