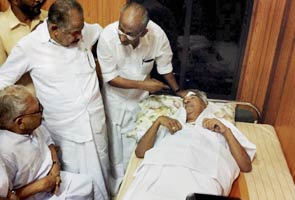 Thiruvananthapuram:
Twenty one people have been arrested in connection with the attack on Kerala Chief Minister Oommen Chandy on Sunday which left him injured and his car's window panes shattered due to stone pelting by protesters. Home Minister Thiruvanchoor Radhakrishnan alleged that all those who have been arrested are CPI(M) workers and slammed the incident as "pre-planned strategic attack".
The CPI(M) has, however, denied their involvement in the attack. "We strongly condemn the attack on Kerala CM. CPI(M) does not believe in the politics of violence. Let the government carry out an impartial probe. We are of the firm belief that no CPM worker was involved in this incident and we reject the Kerala Home Minister's charge that the attack was pre-planned. The government can always hoist false charges against us," said Radhakrishnan Pillai, a Politburo member.
Mr Chandy, admitted to hospital, has been advised bed rest for a day by doctors. He has been facing protests across the state from Opposition party workers after his office was caught in the solar scam case.
"The stone first hit the window, then hit CM's chest and then hit the opposite window, all in few seconds. The injury on the forehead and other places were cased due to the broken car window glass," said KC Joseph, Minister for Rural Development, who was with Mr Chandy when his car was attacked.
Home Minister Thiruvanchoor Radhakrishnan denied any negligence on the part of the police.
Kerala has been at a brink of a political storm with the Opposition LDF continuing its demand for Chief Minister's resignation. Mr Chandy has been forced to reduce his public interaction in past few months due to the intelligence reports and as protesters started greeting him with black flags at major places.