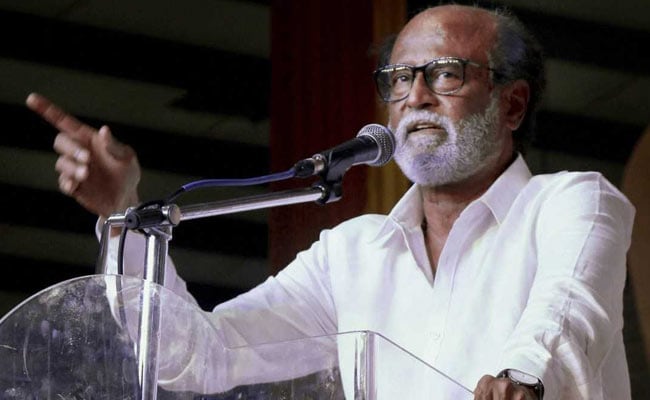 CHENNAI:
Superstar Rajinikanth has launched an unusual broadside against Chief Minister E Palaniswami and his ministers for skipping DMK patriarch M Karunanidhi's funeral last week, provoking a stinging comeback from the ruling AIADMK.
Speaking at a memorial event for the five-time chief minister, the superstar had made a pointed reference to the Tamil Nadu cabinet giving Karunanidhi's funeral a miss.
"Tamil Nadu's first citizen, the Chief Minister, shouldn't he have come? Should not the entire cabinet have come? What will people think? Are you MGR (AIADMK founder MG Ramachandran) or Jayalalithaa," Rajinikanth, also known as "Thalaivar" (ultimate boss), asked at the event organised by the South Indian Artistes Association.
The AIADMK did not explain their absence but hit back at Rajinikanth, who is prepping to launch a political party in time for the 2021 assembly elections in Tamil Nadu.
"It was a condolence meeting for a departed leader. It is not a healthy thing to have spoken politics there," senior AIADMK minister D Jayakumar said.
The minister also added that by making a political point at such a solemn occasion, "it is evident that dear friend Rajinikanth lacks political maturity".
The minister in the AIADMK government, which had tried to deny Karunanidhi a funeral at Chennai's Marina beach, said Rajinikanth had used the occasion to try to graduate "from a part-time politician to a full-time one".
Rajinikanth also alluded to this government decision which was overturned by the Madras High Court, declaring that had the AIADMK government appealed against the order, he too would have launched protests against the decision.
Rajinikanth, who counts Karunanidhi as his mentor and had last year met the DMK patriarch to seek his blessings after announcing his political plunge, had earlier described Karunanidhi's death as a "black day" in his life.
His attack on the AIADMK was unusual.
As compared to Kamal Haasan, the other superstar who has already taken the political plunge, Rajinikanth has been perceived to be a lot more subdued in his remarks targeting the ruling party.
Like when people protesting against Sterlite's copper smelter plant in Tuticorin, Rajinikanth had spoken about the state government's careless attitude in handling the issue but had blamed anti-social elements for the violence and deaths. It was a contrast to the narrative put forth by local residents who accused the police of using excessive force on protesters, many of them peaceful.
At one point, Rajinikanth was perceived to be inching closer to the BJP. But in recent months, he has been seen to make a conscious effort to be equidistant from all political formations.