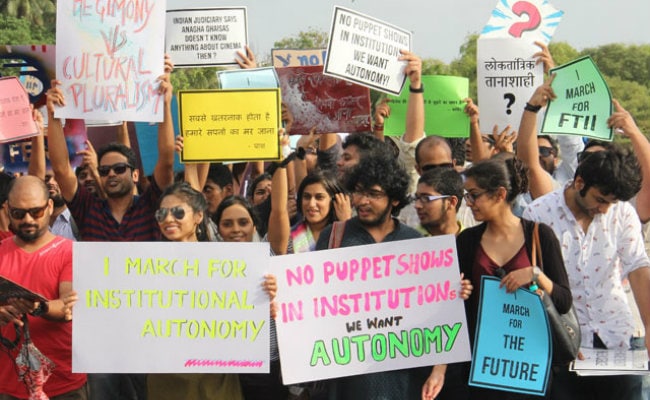 Pune:
With no end in sight to the nearly three-month-old strike in FTII, the protesting students today threatened go on hunger strike en masse if their main demand of removal of actor Gajendra Chauhan as chairman of the premier institute was not met by the Centre.
"The students will be sitting on an indefinite hunger strike if our demands are not met by the government which has put us in this situation. There is no option left," FTII Students' Association (FSA) representative Vikas Urs told a press conference today.
The FSA, however, did not set any date to start the hunger strike.
Meanwhile, the fast undertaken by a faculty member Abhijit Das of the Art Direction department of the institute seeking "immediate resolution" of the crisis entered its third day today.
Referring to the fast by Mr Das, Mr Urs said it was "extremely disturbing" the way the FTII administration and the Information and Broadcasting Ministry were dealing with the issue.
"In a democracy we need to be heard on issues raised by us. No official communication has reached us from the ministry on the fast started by Mr Das," Mr Urs said.
He accused FTII Director Prashant Pathrabe of not "doing anything to resolve the crisis" and adapting "a manipulative mechanism" to malign the students.
Mr Pathrabe today met the fasting faculty member who is sitting under a tree in a make-shift pandal and requested him to give up his fast. Mr Das has been observing silence since he began his fast on Saturday after issuing a one-liner calling for immediate resolution of the present crisis being faced by the FTII students.
Reacting to the Supreme Court's decision not to admit a PIL on the FTII imbroglio, an FSA representative said the ruling will have no effect on the strike.
"This will not have any implication on our strike. The PIL was not filed by students or ex-FTII students. So in no way it is blow to our protest. The students' body has at this point of in time decided to go ahead with an indefinite hunger strike," the representative added.