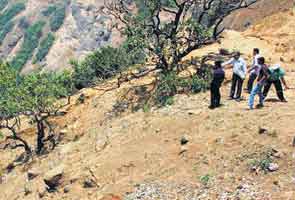 Pune:
World Cup frenzy took an unexpected turn for four Thane based friends who were celebrating India's victory in Lonavala, when one of them fell in the gorge at Lion's Point on Sunday morning.
The incident came to light after 28-year-old Virendra Rathod's friends informed the Lonavla rural police. Rathod's friends said the incident took place when he had gone to attend nature's call and slipped and fell in the gorge. But contrary to his friends' claims Rathod's parents have demanded an inquiry because they suspect foul play.
Rathod's relatives who had come to the spot were in deep shock and asked the rural police to question the three friends who had accompanied him to Lonavla. Sources said the relatives were suspecting his friends of some conspiracy.
However, ASI G R Ugale who is investigating the case said, "We believe the relatives are shocked. Our primary suspicion is that Rathod lost his balance and fell in the gorge." Rathod's friends Ajinkya Bhaskarao Walimbe, Ramdas Waghchaure, Mukesh Gulabchand Jaiswal had come to Lonavla in Maruti Swift and reached around 7.30 am near Lion's Point. The police said Rathod received fatal injuries because the gorge was deep and died on the spot.
When PI Vishnu Pawar was informed about this incident he took the help of Shivdurga Mitra, a group dedicated to do rescue work in Lonavla and nearby areas. As the gorge was deep it took almost six hours for members of Shivdurga Mitra to pull out Rathod's body from the gorge.
Ajay Raut, Sunil Gaikwad, Rohan Wartak, Raju Kadu, Dhanajay Wartak and Sachin Tare struggled hard to pull out his body. Finally, they succeeded in this task at 1.30 pm. Pawar said the four were drinking for an hour near Lion's Point before Rathod went to answer nature's call.
Get Breaking news, live coverage, and Latest News from India and around the world on NDTV.com. Catch all the Live TV action on NDTV 24x7 and NDTV India. Like us on Facebook or follow us on Twitter and Instagram for latest news and live news updates.