Pune:
In a shocking incident that took place in broad daylight on Monday, a 22-year-old MBA student - also the daughter of a sitting BJP MLA - was brutally stabbed multiple times, allegedly by her jilted lover in Pune, after she complained against him to her college management. Two students on campus rushed to her aid and were also injured in the ensuing scuffle, but ultimately managed to save her even the attacker managed to chop of the victim's finger.
The girl, identified as Ashwini Reddy Bodkurwar, is now undergoing treatment at LifePoint Multispeciality Hospital and is undergoing a surgery to save her little finger.
Ashwini is the younger daughter of MLA Sanjeev Reddy Bodkurwar from Wani-Yavatmal constituency, who rushed to Pune with his wife as soon as he heard of the attack. Ashwini's brother, who also studies in Pune, also rushed to the spot.
A case against accused Rajesh Praveenkumar Bakshi (23) alias Raj has been registered with the Wakad police station under the relevant sections of Indian Penal Code.
How it happened
Ashwini is a resident of the Sri Navale hostel, while the arrested youth, who hails from Haryana, was perusing his MBA at the Sri Balaji Society's Balaji Institute of Telecom Management. On Monday, at around 8.20 am, as Ashwini was on her way to her college, Rajesh pounced on her and attacked her with a chopper-like weapon. Lucky for her, two college mates Yash Koli and M Mujumdar saw the incident and rushed over to help her, but couldn't save the finger from being chopped off. Later, after fending off the attacker, they alerted the police and rushed her to the hospital. According to one of the eyewitnesses, speaking on condition of anonymity, "While others were simply watching and crying, those two saved her. After the incident, Rajesh was so panicked, he appealed that he be allowed to talk to his father, who he then called and told, "Pitaji, mari nahi who, zinha hai."
Police says
DCP (Zone III) Ganesh Shinde said, "Victim and the detained youth were pursuing their MBA and knew each other for the last eight months. However, for the last month, he was harassing her and had become over-possessive of her. It seems that she had complained against this boy to college authorities, but they had failed to approach us."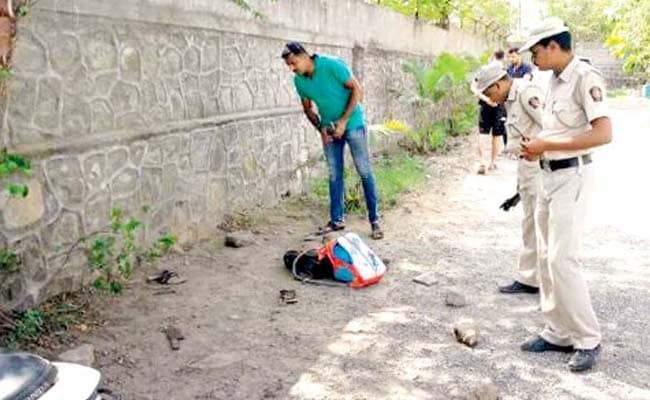 College speaks out
Speaking to mid-day, colonel A Balashubramanian, President of Sri Balaji Society said, "This is a sad and unfortunate incident. She approached me on Sunday at around 2.30 pm complaining about harassment by Rajesh.
Immediately, after counseling her, we held an internal inquiry and summoned Rajesh at 3.30 pm, wherein he assured that he would not repeat his behaviour, which she accepted. We are now taking care of her medical expenses and have approach the doctors."
MLA Bodkurwar said, "This has raised an issue of security of women. I am not talking as a minister, but as a father. Now, the chief minister has assured he will take stringent action in this regard as I demand maximum punishment."
(Except for the headline, this story has not been edited by NDTV staff and is published from a syndicated feed.)
Get Breaking news, live coverage, and Latest News from India and around the world on NDTV.com. Catch all the Live TV action on NDTV 24x7 and NDTV India. Like us on Facebook or follow us on Twitter and Instagram for latest news and live news updates.